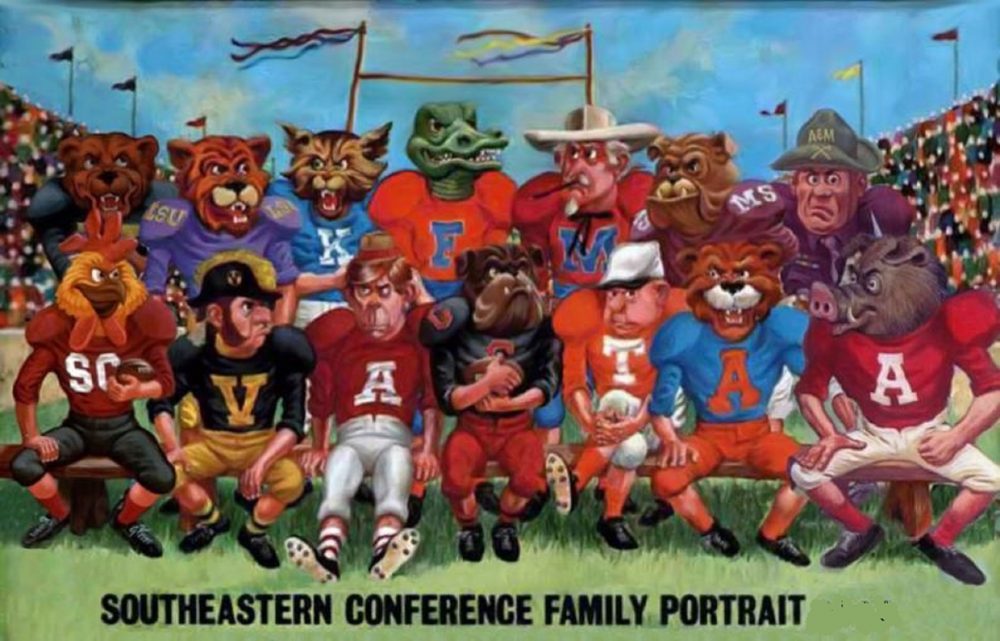 Yes folks it's that time of year again, when Larry lists the losers in a laughable way to make your day. And speaking of laughable, there's plenty of cupcake classics this week to make fun of.
Larry's Losers in the SEC – Week 1 – 2018
By: Larry Burton
Well sports fans, it's with a heavy heart that we start this season without my writing partner of this article. He's been helping me list the losers for 12 years. In case you hadn't heard, Bacardi the Wonder Dog, the pigskin pickin' pooch has passed on. My little buddy and I did manage to do the way too early SEC season overview together and in our last days together he wanted me to know that this could be a very special season for his brothers, the Mississippi State Bulldogs and not to sleep on the South Carolina Gamecocks.
Bacardi the Wonder Dog spent his final days studying up on the media guides from around the SEC. He was a great colleague and a better friend. I'll meet you at the pearly gates in a few years buddy. 
With so many new coaches in new schools, it's going to be a difficult season to predict early on and I'll miss the insight of my prognosticating pug who helped me attain a 97% accuracy rate one year and a 92% another. No other media people ever came close to numbers like that and I'll give him the credit he deserves for helping us choose those contests.
I dedicate this season of Larry's Losers to my little buddy. Enjoy the best seats in the house from here on. But now it's a new season and I'll get started without further tugging of the heart stings and get to listing the losers.
Northwestern State at Texas A&M – Starting this season the danged old Demons who aren't really from the North or the West, but from Northwestern Louisiana, come to Kyle Field to get a big check and a bigger butt whipping.
This really isn't a game worth watching, but since it's the first and it's on a Thursday night, let's watch it just to see how bad ol' Jimbo will let his ambushing Aggies lay it on this sad sack squad.
So as bad as they want to beat them, you can bet your last taco chip that this game is in the bag for the Aggies. Larry's loser – Northwestern State
Coastal Carolina at South Carolina – The Chanticleer Cluckers clammer on over to Columbia to bend over and be plucked by their fellow Carolina chickens.
Now the feathers will fly in this one, but it's going to be a very one sided story in this contest.
This could be the beginning of a very special year for these Carolina Cluckers and while it may be fun to watch if your a giddy Gamecock, it's going to be over early as without a doubt, Larry's loser is Coastal Columbia
Come to think of it, isn't chicken fighting illegal in the U.S.? Somebody better tell this pair of cluckers.
Ole Miss vs Texas Tech –  These two meet in Houston, but it's far from a neutral site as the Rebels wrangle with the Red Raiders in a contest that's finally worth watching.
This one could be a nail biter, but something tells me that when in doubt go for the squad that plays defense and they don't really understand that concept at most Big 12 schools.
So I'm gonna lean to Rebels and hope their new QB can ring up enough points to keep them in this contest. Larry's loser – Texas Tech
Austin Peay at Georgia – In the third game of the season, another pigskin pummeling takes plays as Austin gets the Peay beat out of them by the Bulldogs.
Now these Peay brained Governors from Tennessee need the money from this mauling and the Bulldogs want to start the season with a bang, so I guess it's a win win situation.
So if one sided sagas are your sweet tea, stay tuned as this will be as ugly as you'd want. Larry's loser – Austin Peay
Central Michigan at Kentucky – The Chippewas carpool down to the confines of the Kentucky Kitties for a contest and an SEC sized check.
Now these footballing felines aren't a bad team and I'm not only saying they'll win this game, I'm saying they'll look darn good doing it.
So while Kentucky has been known to struggle with even cupcake contestants, they won't this time and that'll make Larry's loser Central Michigan.
The Bulldogs just don't beat the pants off them, they take the Governor's top hats too!
Washington vs Auburn – The PAC 10 Pooches from Washington wander down to Atlanta to take on the Tabbies from Auburn in anything but a neutral field contest.
In the most interesting and potentially most meaningful game of the day for both teams and the national rankings, this is more than just another Dog and Cat fight.
I expect the fur to fly for most of this football fury but in the end, the home field advantage helps the Auburnites enough to get in the most good bites and scratches. Larry's loser – Washington
Tennessee at West Virginia – The hardknoxville Volunteers travel up to coal mine country and take on the Mountaineers in what could be an interesting game to watch.
Now the Vols have a new coach and with it, a little more swagger in their step and they're hoping to start a new season and a new chapter in football fairytales.
But this won't be the day it gets going, but we think it won't be too far away. While it could be closer than most think, Larry's loser is Tennessee
UT Martin at Missouri – The Skyhawks flap on over to Missouri for yet another opening day cupcake catastrophe, but like the others, they'll leave with a big check and racing stripe in their underwear.
If you don't have a family member in this game, it might get boring just after kickoff. But even bored Mizzou fans will at least seeing their beloved Tabbies tap dancing into the endzone with amazing regularity.
So without a doubt, Larry's loser is UT Martin
Eastern Illinois at Arkansas – Now the pitiful Panthers, a directional school from Illinois, may think they have a slight chance playing the SEC West's worst team.
But there's a big difference from being a middle of the road Ohio Valley Conference team and a bottom of the barrel SEC team and we're all about to see how big a gap that is.
So when this contest is over, we'll all know that while the Hogs may not have a great season, they're way better than these cremepuff Panthers. Larry's loser – Eastern Illinois
Charleston Southern at Florida – The volume of vomitous venues continue when the Buccaneers stink up the Swamp trying to play against the Gators in Gainesville.
I mean, can the the SEC not at least have a little pride and schedule some teams that can at least make it interesting?
In yet another cupcake creaming, Larry's loser – Charleston Southern
When the Gators and Buccaneers square off, the only thing that's winnable for the Bucs is the coin toss.
Middle Tennessee at Vanderbilt – As bad as Vanderbilt can play, it's often hard to find a team that can qualify as a cupcake, but this contest proves that it can be close in certain cases.
Somehow the "experts" think that this could be a close one, but you just have to wonder what they've been drinking to come up with that.
It's not that these Blue Raiders have no clue, they just don't have the depth to finish up in this contest. Larry's loser – Middle Tennessee
Stephen F. Austin at Mississippi State –  The Lumberjacks from Stephen F. Austin come to play in this contest because their brother, Murray Q. Austin couldn't get enough players to make a team.
Yes, in yet another totally useless contest that won't tell you anything about how good Mississippi State really is and in a game that really won't help them prepare for a good team, this is just another waste of time.
But at least at the end of the year it'll help my average. Larry's loser – Austin Powerless
Louisville vs Alabama – In what looked like a good game when it was scheduled, the Redbirds flap on down to Orlando to take on the Tide.
Well this ain't the same team that Lamar Jackson used to run up and down the field and anything else than a 28 point win could make the Tide look bad in this one.
While the game is not in doubt, the winning margin is. While it's not a a cupcake game because the big ball coach Nick Saban don't like beginning season ballgames with sugar on top, the score will make it look that way. Larry's loser- Louisville.
Last thing heard from the Red Birds… "But I thought the big ones graduated or went to the NFL."
Miami vs LSU – Jerry's World in Texas hosts this hot contest between the balling Blowhards and the Bayou Bengals and it's going to be a great game to see exactly where these two teams are early on in this season.
Now while no one is picking LSU to win a division title in the SEC, these big wind warriors think they've got a shot to make the conference shootout in the ACC.
Now the smart money is all over Miami and it's easy to see why, but something tells me this could be the upset bug that we missed this week. In a very close game, Larry's loser – LSU
Hey Ed, who you picking to Lose?
So with a mostly pathetic pallet of programs this week, it'll sure make me look like a genius for picking so many one sided stories. But even if it's a perfect picking party, it still was tough without my pigskin picking pug pal by my side to converse these contests.
But there's always hope, when I was rewatching spring games to perfect my picks, our new puppy Rumsely was intently watching too, so maybe he'll develop some intelectual instincts and can one day help me forecast these football fiascos. Only time will tell.
So until next week, get some mouth wash and try and get the bad taste of these cupcake classics out of your mouth. Better games are coming, I promise.
LARRY HAS BEEN PUBLISHED IN ALMOST EVERY MEDIA OUTLET FOR COLLEGE SPORTS AND NOW PRIMARILY WRITES HERE FOR TOUCHDOWN ALABAMA. HE WRITES IN A COLLOQUIAL AND IRREVERENT STYLE FOR THIS SERIES OF ARTICLES. LARRY'S VIEWS AND SENSE OF HUMOR MAY OFFEND, BUT HE AIMS TO OFFEND EVERYONE EQUALLY. IF HE HASN'T INSULTED YOUR FAVORITE TEAM WITH LARRY'S LOSERS, JUST WAIT. FOLLOW LARRY ON TWITTER FOR INSIDE THOUGHTS AND GAME TIME COMMENTS AT HTTPS://TWITTER.COM/LBSPORTSWRITER