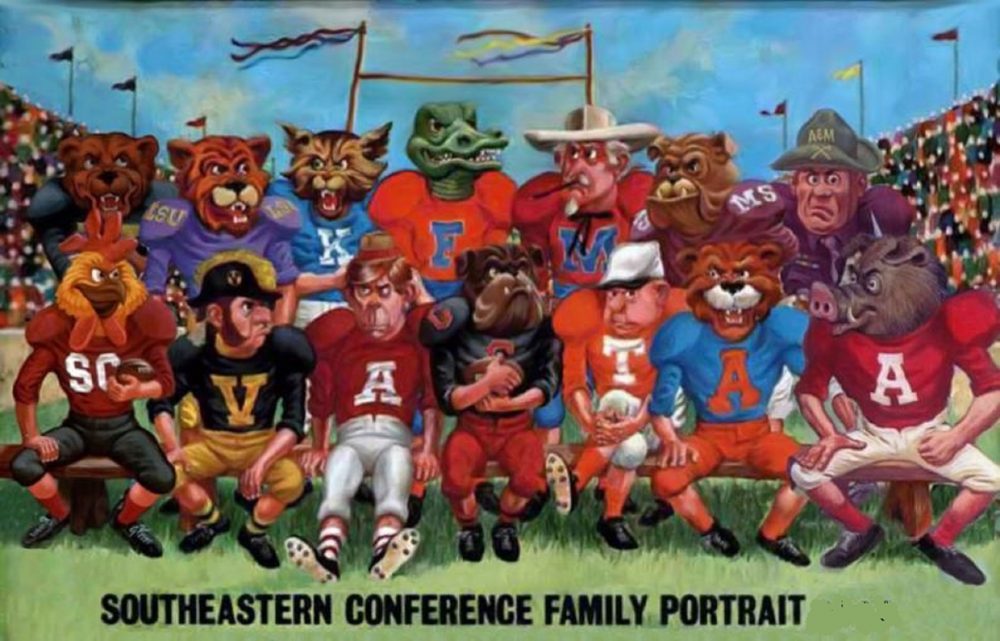 Do you think you have the chops to beat the picks that the practically perfect pigskin pickers place here each week? Look and see if your list of losers beats ours.
Larry's Losers in the SEC – Week 4 – 2018
By: Larry Burton
Finally folks, here's the football we've been foaming at the mouth for. It's SEC vs SEC at it's best and now we'll start getting to see who really brought what to the table for this season.
For the past few weeks, I've been keeping a promise to the Mrs. and taking her on a little trip for her birthday and all the food and drink on this cruise ship has taken it's toll on my ability to perfectly prognosticate pigskin performance. Last week we didn't see LSU nipping Auburn, but we're hoping that this week will set a new standard.
So after this week I'll be safely back in Larry's Losers home studio and get all this New England and Canada trip off my mind and get back to some serious study. So without further ado, here are this week's likely losers.
Texas A&M at Alabama – Fisher's Farmers travel to Tuscaloosa to take on the Tusked Ones in Titletown and they're anxious to see how they stack up to the SEC's finest and think they can stand toe to toe with this pigskin Pachyderms.
But pride is one thing and physics is another and when it comes to toes, an Elephant's toe can squash the whole foot of a foolish Farmer.
That's the lesson to be learned today and that makes Larry's loser – Texas A&M
Arkansas at Auburn – In an interesting contest, the 75 little Piggies come to huff and puff and try to blow away not the big bad wolf, but the troublesome Tigers in their own backyard in the wiregrass.
But unlike the children's story, this one don't have a happy ending for any of these little Piggies who won't be running off the field saying "Whee, whee, whee!" They'll be limping off saying "Woe is me!"
So that'll certainly make Larry's loser – Arkansas
Mississippi State at Kentucky – When Moorehead's Mutts mosey over to take on the Kentucky Kitties, they're looking for it to be a typical dog and cat fight where the big Dog rules the day.
And while that might just happen, this one could be closer than most people think if the Cats get wild early in their own cat box.
This could be a fun one to watch and it could go down to the wire, but I just can't over my old pigskin pickin' pooches final advice to me before passing on, "Don't sleep on State this season." So we're picking Larry's loser to be Kentucky.
 23 wins against Kentucky 
 22 wins against the dogs
Anybody else knew this series was this close?
Louisiana Tech at LSU – In the first of their two games against an SEC team this season, the Bayou Bulldogs bus over to the Bayou Bengals to pick up a payday and a pummeling.
Ed Orgeron may not get as many wins as he wants this season, but in this one, he'll look like a genius.
So while other SEC teams are playing meaningful games, the Cajun crowd plays paddy cakes with a pushover. Larry's loser – Louisiana Tech
Kent State at Ole Miss – Here's another cupcake clash when the Kent State clan comes down to Ole Miss to take on the Rebels who became Bears and then likened themselves into Landsharks.
So while the folks in Oxford may be having an identity crisis, they still field enough men to mash the Flash in this one.
In the game that'll help them get bowl bound, this contest is all Ole Miss and that'll make Larry's loser – Kent State
Georgia at Missouri – Kirby's Canines mosey over to Missouri to take that Tiger by the tail and wrangle a win in an important SEC East contest.
Now anybody who puts the division crown on the Bulldog's beanie before they battle through the schedule is just silly because these Tigers can pounce and punish people as well as anybody.
This could just be one where the Dogs are looking ahead and get whipped, but I think after getting their attention, the Bulldogs take care of business. Larry's loser – Missouri
Florida at Tennessee – We've waited all winter to see some good games and this is one that will tell us a lot about two teams with lots of question marks.
When the Gators gather at the bank of the Tennessee River to vanquish the Vols, they might just be in the fight of their lives.
While most folks think dandy Dan is building back the Gators of old, Pruitt's pigskiners might just show them their rebuilding is going well too! It's gonna be a fun one to forecast and we see Larry's loser, in a close one, Tennessee
South Carolina at Vanderbilt – When the Carolina Cluckers flap their way over to the Country Crooning Capital to take on the Swabbies, they hope to show the Song City Sailors that even a Chicken can capsize a Commodore.
Yes, these foul tempered fowls aren't opposed to taking to the water and waylaying the water boys in this one and that's just what they'll do.
So get the life jackets ready again because Larry's loser is Vanderbilt
These Carolina Cluckers will find and sink Vandy's ship of fools.
Well that's it for this week folks. I can't wait to get back home and pet my puppy and partake of the joy of being back in SEC Country once again. It's good to get out every once in a while and see how the people who aren't graced by SEC football live. It just makes me more appreciative.
So till next week, stock up on the snacks and hunker down for the good part of the SEC schedule.
LARRY HAS BEEN PUBLISHED IN ALMOST EVERY MEDIA OUTLET FOR COLLEGE SPORTS AND NOW PRIMARILY WRITES HERE FOR TOUCHDOWN ALABAMA. HE WRITES IN A COLLOQUIAL AND IRREVERENT STYLE FOR THIS SERIES OF ARTICLES. LARRY'S VIEWS AND SENSE OF HUMOR MAY OFFEND, BUT HE AIMS TO OFFEND EVERYONE EQUALLY. IF HE HASN'T INSULTED YOUR FAVORITE TEAM WITH LARRY'S LOSERS, JUST WAIT. FOLLOW LARRY ON TWITTER FOR INSIDE THOUGHTS AND GAME TIME COMMENTS AT HTTPS://TWITTER.COM/LBSPORTSWRITER