Highlights
Larry's Losers in the SEC – Week 7 – 2018 – Hurricane Week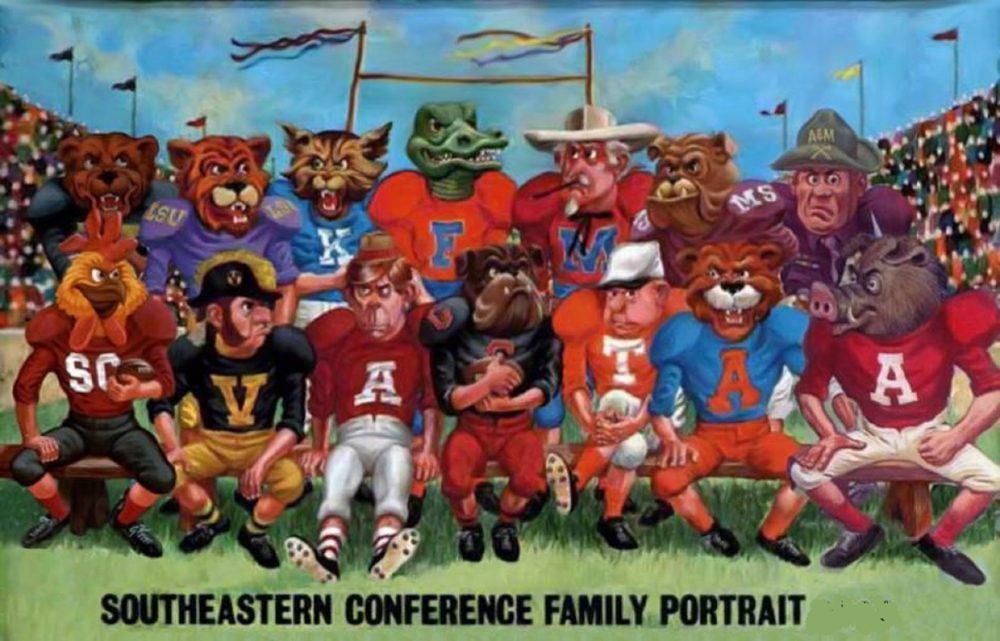 Well folks, it's the halfway mark in the regular season and we haven't been perfect yet. Will this be the week? See if you can do better and compare!
Larry's Losers in the SEC – Week 7 – 2018
By: Larry Burton
Well folks, we missed one last week. Auburn, thy name is misery to the Loser's Lair, in a game we we were sure the Tiggers could pull out, they simply laid down and died. This week we have been looking left and right for where the upset bug is going to bite, but after some last minute changes while the Hurricane bares down on us, we're just going to stick to what we got and go forward.
Yes, the Loser's Lair is in Panama City Beach, Florida and we're about to get out 20th hurricane in the 35 years we've been settled here, so as we publish this, we have the generator on stand by just in case we have to publish under backup power.
So before we lose electricity, let's get these losers listed and pray for good luck with the big blow and better luck for the pigskin prognostications.
Looks like it's going to hit us square in the nose here in Panama City Beach, Florida….
Ole Miss at Arkansas – When the Landsharks swim up to Arkansas to swipe some swine for a little Saturday barbeque, they aren't counting on a fight they can't win.
But these Hogs aren't counting on being the doormats forever and sooner or later they're going to jump up and tear somebody a new one with those tusks.
But we don't think it's this day and while this one could be interesting to watch, we still see Larry's loser is going to be Arkansas.
Texas A&M at South Carolina – Boy oh boy, here's one of the games we've all been waiting to see and when the Aggies come a calling to the Clucker's compound to try and steal a win and some eggs, they're gonna find some big peckers and some sharp spurs awaiting them.
So far this season, both teams got their butts handed to them in games that made them look bad and both teams want to show folks that this isn't what they should remember about them.
Now this is a game that could easily go either way and this is the one game that has us most nervous in our picks. Momentum is everything is tight games and we just see Kelly Mond giving his team that extra juice they need to pull out the win. Larry's loser – South Carolina
Florida at Vanderbilt – When the Gators swim up to Song City to swamp the Sailors they aren't looking for a lot confrontation from these Commodores.
But yes, this may be one of the bottom SEC teams, but it's still and SEC team and these Swabbies have been working hard and give everyone a fair fight and these big Lizards better not take this team too lightly.
But the talent pool is just a little bit deeper in the Gator's pool and in the end, that's what makes the difference and that makes Larry's loser – Vanderbilt
Tennessee at Auburn – The boys in Tennessee found enough Volunteers to travel down to Auburn, but nobody thinks they brought enough good ones to make this one a contest.
I'd like to think that if Auburn takes these Tennesseans too lightly that they could be shocked, but Auburn start the flute section of the band on defense and still beat these bums.
They'll be better days ahead for Tennessee, but it won't be today as Larry's loser in a big way is Tennessee.
Georgia at LSU – The beast of the East comes to test a great from the West. That's what's happening when Kirby's Canines come a calling to Bayou Bengal's bungalow.
Boy oh boy, this is one of those games you wait all season long for and while it doesn't making picking it easier, it sure makes making it more fun.
I can see the upset bug biting us in the butt in this one because if the Tigers get things going the fans can just keep the wave going. But big games need a big quarterback and in this one, Georgia brough the big dog. Larry's loser – LSU
But we were a top ten team just a week ago….
Missouri at Alabama – The mighty Midwestern men meander into T-Town with hopes and dreams of pulling off the upset of the SEC season.
But with hopes and dreams in one hand and Tuscaloosa Tusked turds in the other hand you have two hands full of the same thing when it comes to this team hoping to beat the Bamers at home.
And that makes Larry's loser – Missouri
Missouri was concerned when vendors were seen selling these game reminders even well before kickoff…
Well that's it for this week folks. If the big blow don't do us in, we'll be back next week with another list of likely losers to laugh and lament over. So till then, pray for the folks on Gulf Coast and keep your own powder dry and the good Lord willing, we'll be back together soon.
LARRY HAS BEEN PUBLISHED IN ALMOST EVERY MEDIA OUTLET FOR COLLEGE SPORTS AND NOW PRIMARILY WRITES HERE FOR TOUCHDOWN ALABAMA. HE WRITES IN A COLLOQUIAL AND IRREVERENT STYLE FOR THIS SERIES OF ARTICLES. LARRY'S VIEWS AND SENSE OF HUMOR MAY OFFEND, BUT HE AIMS TO OFFEND EVERYONE EQUALLY. IF HE HASN'T INSULTED YOUR FAVORITE TEAM WITH LARRY'S LOSERS, JUST WAIT. FOLLOW LARRY ON TWITTER FOR INSIDE THOUGHTS AND GAME TIME COMMENTS AT HTTPS://TWITTER.COM/LBSPORTSWRITER
Don't forget to share the address of this story on your Facebook, Twitter and Snapchat pages so your friends will know you're cool!