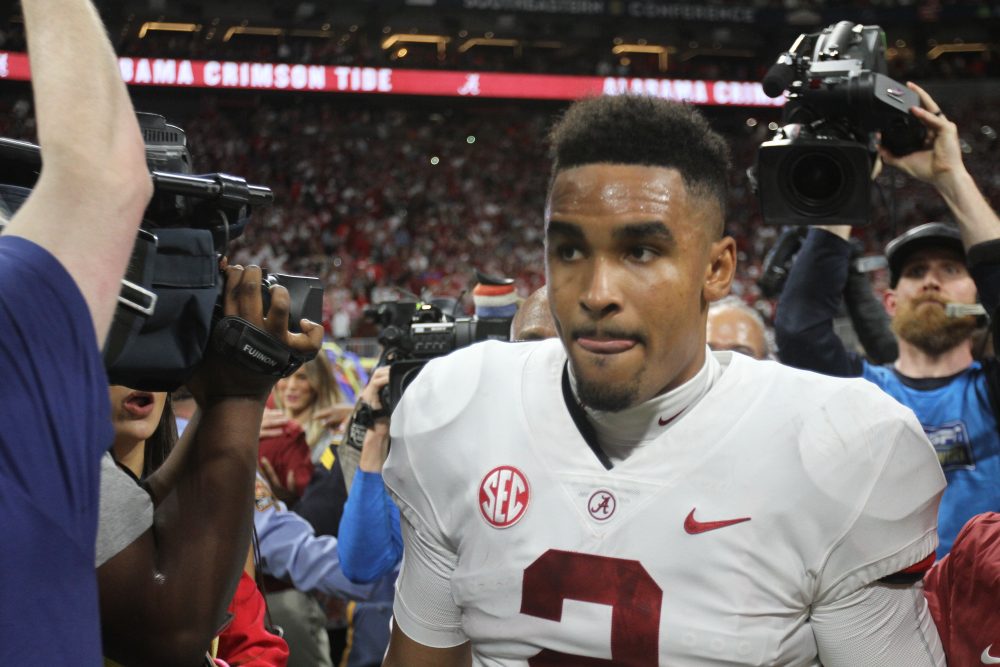 Jalen Hurts is a remarkable man who leaves the team, but not before finishing what he started. All can only wish him the best in his future and say thanks!
Jalen Hurts, Leaving With Alabama Fans Love, Admiration and Thanks
By: Larry Burton
Few have ever played the critical role of quarterback with a record that comes close to Jalen Hurts. But in Alabama legend and in the hearts of the millions of fans, it is not his record that will be remembered, it is his heart.
He came to Alabama to compete against some great competition for what is perhaps the most visible job in all of college football, captaining and quarterbacking the best team of this century with the nation's highest expectations and living under the most scrutiny of not just the fans, but the press.
Few can take that kind of pressure, live under that kind of magnifying glass or hang in there when the competition doesn't go your way. During Jalen's time at Alabama, the world witnessed two distinct and polar opposites of what can happen.
Blake Barnett and Jalen Hurts both came to compete for the starting job of quarterback. Both were nationally recognized as one of the best prospects in the country. Both felt they could win the starting job, but of course only one could earn that job.
When Barnett eased out Hurts for the season starting job, Hurts took it in stride and continued to work hard, to prepare, to improve and when Barnett had difficulty in being the man the Tide needed, Hurts stepped in and not only became the man the Crimson Tide needed, but set the standard for accepting what it means to be a team player for a long time to come. Barnett on the other hand showed the selfishness of a spoiled child who simply took his ball and went home.
While Barnett bounced from team to team becoming all but a jokish footnote in college football history, Hurts went on to lead the Tide with a 26-2 starting record, two starting years of over 2000 yards passing and close to 1000 yards rushing in each of his two years of starting. But those are not the things he will be remembered for, loved for, revered for and immortalized for.
His heart is what will be remembered. When the time came when he had struggles and was replaced by the Tide's now number one quarterback, Tua Tagovailoa, unlike Barnett who took his ball and left like a spoiled child, Hurts remained on the team, did what he always did, worked hard, encouraged his team on to greatness, worked to improve and accepted his role and showed that he was all about finishing what he started. He earned his degree, he stayed true to his team and never thought he was any less of a valuable asset as any other person on the bench.
Instead of jealousy, he gave Tua all his support, all his knowledge and all his love. It made them both better.
He was always ready, always a team player, always still the captain he was as a started, always still the example of player who prepared like a champion and he proved in the SEC Championship Game, when Tua got hurt, that all this paid off. A healthier and wiser Jalen took the reigns of the team again and led them in a come from behind win to place them in the national championship series.
All his time on the bench, all the doubts from his naysayers and questions about his abilities were put to rest. He played like a champion in every aspect of the role. He stayed true to his team, his coaches and his fans, he finished the job he started out to do.
Now with his degree in hand, his legend in Alabama history secure and his obligation to his team fulfilled, Jalen leaves with one year remaining to go and write his final chapter in college football at another school.
But unlike many athletes who jump from school to school, Jalen set the standard in how to do it the right way, only after fulfilling what he set out to do initially. He leaves knowing his team is in good hands and that his absence won't be as missed. And unlike other athletes who leave causing the fans to question their loyalty or wish them ill will, Jalen leaves with everyone remotely connected with the Alabama Nation's love, respect and admiration and only the best wishes for a deserving end to his college career.
It is safe to say that wherever Jalen does go, that he will take a piece of all Alabama fans with him and they will all take interest in that team and wish him and that team well in every scenario but one.
Jalen leaves not only with a championship ring he so richly deserves, but with the love of every teammate he ever played with and a legend that as the fight song goes, was truly "writ in Crimson flame". It is not quite enough that he leaves Tuscaloosa with just the program's and fan's love, respect and admiration, but a sincere thank you for all he has done, the character that he showed in both leading and supporting this program and in the example he was to everyone.
God's speed Jalen Hurts, may fair winds and following seas and continued success follow you all the days of your life and may you always know your home port will always be Crimson and your people will always welcome your return.
*Get the BEST Alabama football insider information, message board access, and recruiting coverage today! SIGN UP HERE to unlock our subscriber only content!*
Larry has been published in almost every media outlet for college sports and now primarily writes here for Touchdown Alabama. Follow Larry on Twitter for inside thoughts and game time comments at https://twitter.com/LBSportswriter
THANKS FOR SHARING THE LINK TO THIS STORY ON YOUR FACEBOOK, TWITTER, SNAPCHAT, INSTAGRAM OR OTHER PAGES OR A FACEBOOK GROUP YOU BELONG TO. PLEASE SHARE!