Headline
Tua Working Under the Impression His Job is Up For Grabs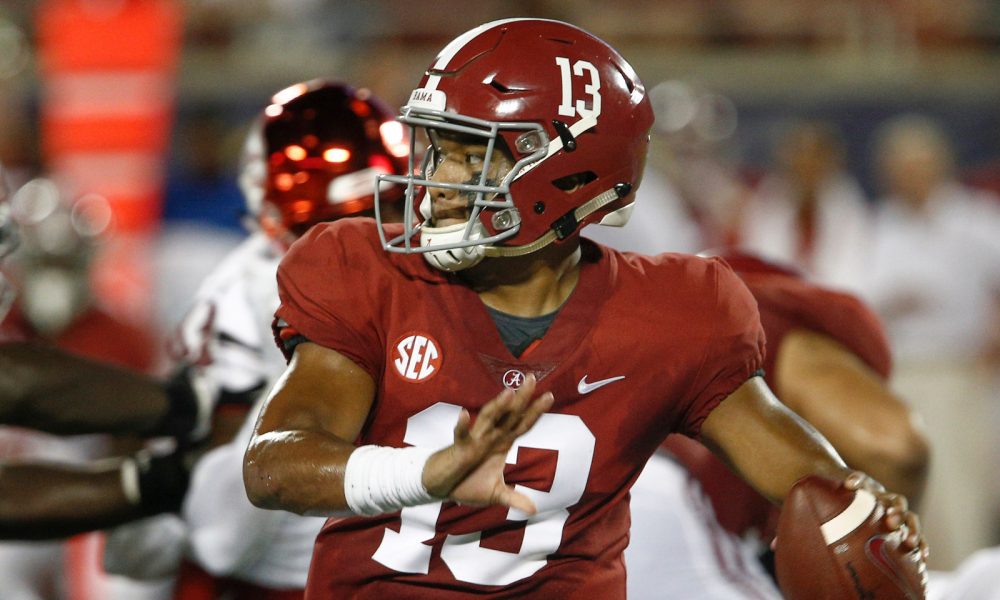 Tua Tagovailoa may be a Heisman front runner and the all but sure starter this season at Alabama, but he's preparing like his job is on the line. Read why he better and why that's good for Bama.
Tua Working Under the Impression His Job is Up For Grabs
By: Larry Burton
While Tua is a leading candidate for the Heisman, Tua remembers a time when Jalen Hurts was too before losing his job permanently to Tua. He knows it can happen again, especially with at least two eager beavers nipping at his heels.
Mack Jones is practicing like a starter, taking spring break to polish his skills, not tan his body and Tua's own brother has skills that are going to turn heads too. Even if you're one of the most talked about quarterbacks in college football, that's something that you have to have in the back of your head.
And if you're thinking Nick Saban would never pull a proven starter, have you already forgotten about Jalen Hurts?
You know that has to be in the back of Tua's mind when he sees Mack Jones thread the needle and sees his own brother Taulia scramble away from pressure and throw a frozen rope for a great completion.
And what if he is injured and his replacement shines beyond belief? Is his job secure when he heals?
If you thought that Jalen Hurts leaving the program to play for Oklahoma in his senior season took all the pressure off Tua to do his best, you don't have a grasp of the talent level that remains on campus.
Anyone can be beaten out for their job is they don't perform. These are things that are in the back of not just Tua's mind, but any starter. The good news is that they are in the back of his mind where they should be. In the forefront of all his thoughts is that he is the man, the guy who is going to go out and win every game he starts. After all, that is the mindset of a true champion and no one can deny that Tua is certainly that.
Tua said after the SEC Championship Game that he didn't doubt that Jalen Hurts could finish and win that game. He said that there is a mentality at Alabama that truly personifies the "Next man up", mentality. And certainly Alabama is blessed with capable next men up.
Jones has been in the program for two years now and knows the offense well. But beyond the knowledge factor, Jones has a great arm and reads coverages well. Taulia rewrote the record book for Alabama high school quarterbacks, including being the first the throw for 400 yards four different times and over 500 yards in one game. Yes, the talent is there if the next man has to step up.
So while Tua may not be publicly worried, while he practices like the starter he is, he also knows that it's possible that his job is up for grabs, so he sure isn't slacking off in any area.
For the Tide, it is better that he feels that way, in the end it will only make him even better.
*Get the BEST Alabama football insider information, message board access, and recruiting coverage today! SIGN UP HERE to unlock our subscriber only content!*
Larry has been published in almost every media outlet for college sports and now primarily writes here for Touchdown Alabama. Follow Larry on Twitter for inside thoughts and game time comments at https://twitter.com/LBSportswriter
THANKS FOR SHARING THE LINK TO THIS STORY ON YOUR FACEBOOK, TWITTER, SNAPCHAT, INSTAGRAM OR OTHER PAGES OR A FACEBOOK GROUP YOU BELONG TO. PLEASE SHARE!