Alabama Football News
Christian Barmore can have similar impact as a former Alabama legend in pass rush situations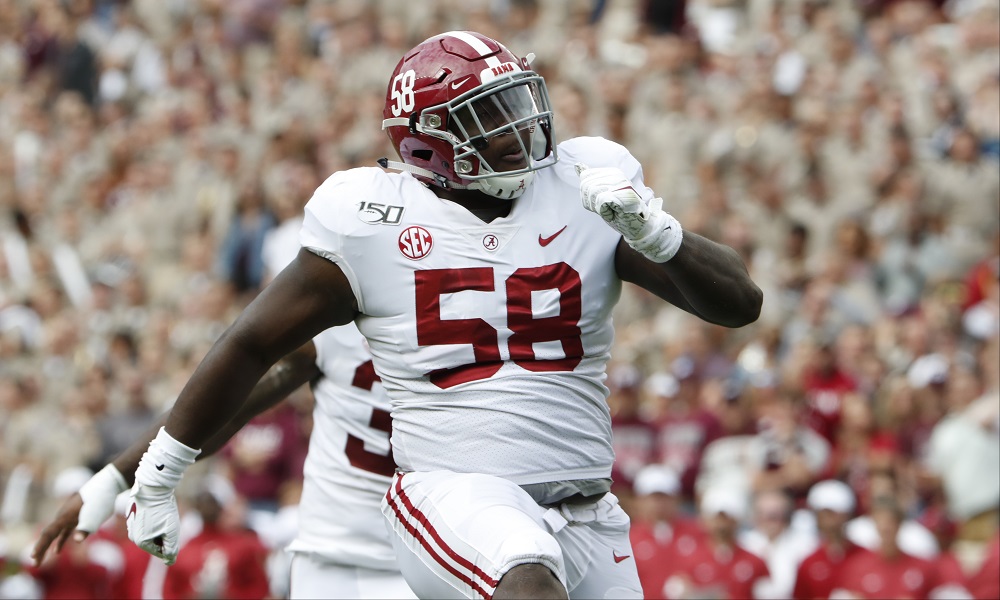 Alabama redshirt freshman, Christian Barmore is quickly becoming a fan favorite and household name early in the 2019 season. While making the most of his opportunities in mop-up duty against Southern Miss, Barmore displayed a skill set necessary for a defensive unit seeking its identity after a host of injuries marred it prior and during the young season.
Since that time, Barmore has been thrust into more passing down situations and saw his most extensive action against the Texas A&M Aggies. During the contest, Barmore recorded his first career sack against Kellen Mond, and one can expect this to continue.
This season — and career possibly — is setting up similarly to one former Crimson Tide standout who was called upon early in his career to inject life into the defensive line. That player being current Jacksonville Jaguar, Marcell Dareus.
In 2008, Dareus was a true freshman who saw limited action for a team seeking to return the Tide to championship lore. It fell short, but in very limited action, Dareus — while the stats may not tell the entire story — showed flashes of just why Nick Saban shed his redshirt status.
However, the following season told a much different story. Dareus' presence was felt immediately and all season long. The 2008-09 teams were stout, but their interior pass rush left much to be desired with the majority of their sacks (and pressure) coming from linebackers and defensive backs.
In the 2009 season (Dareus' second), he tallied 33 tackles (9 for loss) 6.5 sacks, 7 quarterback hurries, and a 28-yard interception he returned for a touchdown against the Texas Longhorns in the BCS Championship Game. Those 6.5 sacks however, were by far the most for any other defensive lineman as the next closest was Lorenzo Washington with two.
Barmore has the ability to do the same and the comparison is not beyond the realm of possibility as the two share similar builds and playing styles (Dareus was listed at 6'4″ 296 in 2009 while Barmore listed at 6'5″ 310). Conveniently, his infectious energy is one that appears to galvanize the players as illustrated by two of the Tide's leaders.
"He got a lot of energy, even off the field," Xavier McKinney said. "He is one of those guys everybody like to be around. He can get you going even if you at an all-time low. He will find a way to get you going with his energy. When he goes out there, he has a great motor, so he helps us with the tempo and getting going. It helps our defense."
As for his fellow defensive line mate, Raekwon Davis, the joy Barmore brings is hard to miss. "The kid, he was literally in tears," Davis said. "It was fun to watch him get his first sack. He was excited about it."
Additionally, Alabama is experiencing a similar trend this season that the 2009 team did when Dareus led it in sacks. Currently, Barmore is tied for the lead in sacks among defensive lineman. Out of the 15 total sacks so far this season, 11.5 come from outside of the defensive line. This is a far cry from the past three seasons where Tide defensive linemen could affect the quarterback without the blitz with players such as Jonathan Allen, Isaiah Buggs, and Quinnen Williams to name a few.
In very limited time, Barmore — who has one sack on the season — is tied for the lead with LaBryan Ray and DJ Dale among defensive linemen through six games due to the absence of Ray and the likes of Davis receiving constant double teams. More reps could potentially yield higher results as a whole from the defensive line.
According to Saban, fans should expect more from Barmore.
"He is a good pass rusher," Saban said. "He gives us something inside that I think is very helpful in pass rush. It is a role that we have been trying to sort of groom him for, and the more knowledge and experience he gets. He did a good job in the game, so we will try to continue to use some of that inside pass rush that he gives us to help us in the future."
Now that Barmore has caught the attention of the coaching staff, do not be surprised to see his impact felt more as this season progresses.
 *Get the BEST Alabama football insider information, message board access, and recruiting coverage today! SIGN UP HERE to unlock our subscriber only content!*