Headline
Top 5 Tennessee moments for Alabama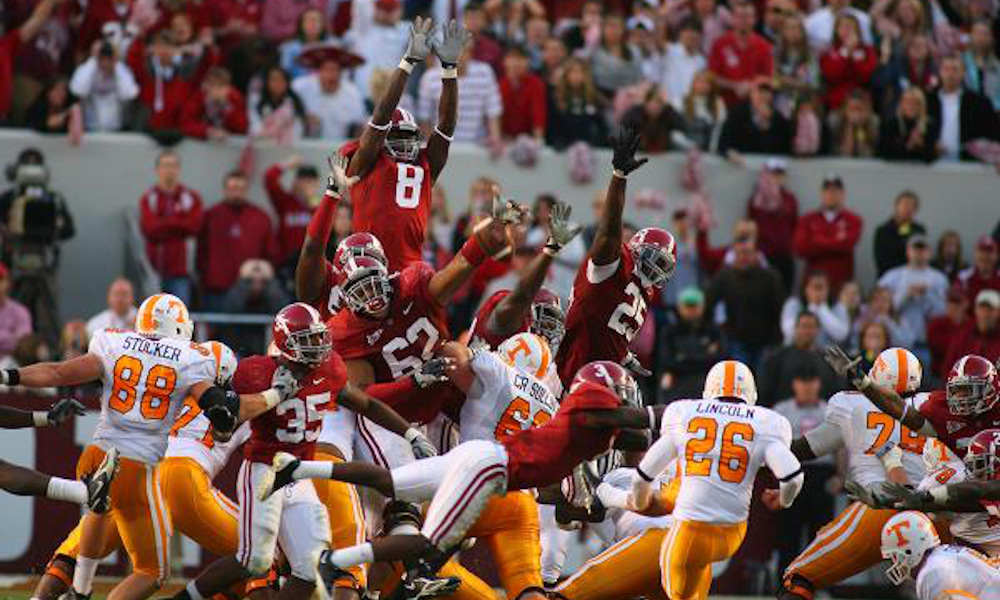 Alabama football has crafted a few rivalries, but its matchup with Tennessee is one of the best.
The rivalry started in 1901 and ended in a 6-6 tie in Birmingham, Ala. Since then, we have seen legendary coaching matchups including Wallace Wade/Robert Neyland, Frank Thomas/Neyland, Paul Bryant/Johnny Majors, and Phillip Fulmer against Eugene Stallings, Mike DuBose, Dennis Franchione, Mike Shula, and Nick Saban. Both fan bases hate each other, and victory cigars are the form of celebration. We have seen some great games in this series, and Saturday looks to add another layer at Bryant-Denny Stadium.
As we pay homage to the rivalry, we look back at the top five moments for the Tide versus the Vols.
5. Terry Davis delivers Tide to comeback win with 1972 touchdown run
Alabama dominated Tennessee under Coach Bryant from 1971-81.
The Crimson Tide was at Neyland Stadium in 1972 as the No. 3 team in the nation. The Volunteers were ranked 10th and the first quarter ended in a scoreless tie. Alabama's offense broke through in the second quarter with a 31-yard field goal from Bill Davis.
Tennessee responded in the third quarter with a touchdown drive. Condredge Holloway, one of the legendary quarterbacks in the Southeastern Conference, rushed for a 7-yard touchdown to give the Vols a 7-3 lead. Ricky Townsend added to Tennessee's edge with a made 36-yard field goal in the fourth quarter. The Tide integrated its football team in 1971, making Wilbur Jackson and John Mitchell its first African American players. Two years later, both guys were instrumental in Alabama defeating Tennessee.
The Tide had the ball with 2:39 left in regulation on the Volunteers' 48-yard line.
Jackson scored a 2-yard touchdown, tying the matchup at 10. On Tennessee's possession, Mitchell recovered a fumble from Holloway, and it set up Alabama with a chance to win. A field goal could have won the game, but quarterback Terry Davis had other plans. He guided the Tide on a drive that finished with him scoring a touchdown with over a minute left in regulation.
Davis' efforts delivered Alabama to a 17-10 comeback victory.
4. Philip Doyle, defense lifts Alabama to 1990 upset win over Vols
When your first major win as a head coach comes against Tennessee, it is a good thing.
Eugene "Gene" Stallings experience it in 1990 for the Tide. Stallings took over for the departed Bill Curry and had his team prepared to upset the No. 3 team in the nation. Alabama had won four straight games against the Vols, but the 1990 contest brought a different vibe. Stallings coached a stifling defense, and neither team recorded a touchdown at Neyland Stadium.
Greg Harris of Tennessee and Alabama's Philip Doyle each made two kicks, tying the game at 6.
The game turned in the fourth quarter with 1:35 to go. Harris attempted a 51-yard try, but Stacy Harrison became Terrence Cody before the 2009 season. Harrison blocked the kick, and the ball bounced to Tennessee's 37-yard line. The Tide was set up for a game-winning field goal, and Doyle was money in the bag. He connected from 48 yards, pushing Alabama to a 9-6 victory.
The Tide pulled an upset win and won a national title two years later.
3. Casey Clausen leads Tennessee to thrilling 2003 win over Tide in five overtimes
Mike Shula and Alabama suffered a loss at Bryant-Denny Stadium, but the game was a thriller.
Casey Clausen (Tennessee) and Brodie Croyle (Alabama) traded blows. Clausen had the #22 Volunteers rolling, while Croyle and Ray Hudson had fans on their feet. Brian Bostick gave the Tide a 6-3 lead at halftime, but the second half brought fireworks.
Tennessee outscored Alabama, 17-14, in the second half to force overtime. James Banks and Troy Fleming were the marquee playmakers for Clausen. Triandos Luke caught a 36-yard touchdown from Croyle, and Hudson scored a touchdown in the fourth quarter.
Both quarterbacks made tremendous plays in overtime. Clausen and Croyle did not want to relinquish momentum.
With the score tied at 43 in the fifth overtime, Clausen led a touchdown drive for Tennessee.
It converted the 2-point try, pushing the Volunteers to a 51-43 lead. Alabama had a chance to score on its possession, but Croyle's pass for Dre Fulgham was deflected and incomplete. Tennessee survived the matchup, and the Tide dropped to 3-6 on the season.
2. Nick Saban earns first victory in 2007 over Tennessee as Alabama's coach
Tennessee had established dominance over Alabama from 1995 to 2006.
During the 12 years, the Vols won 10 of 12 matchups. Things were about to change as the Tide brought Nick Saban in from the National Football League. He finished 7-6 in his first year, but one of his victories came against Philip Fulmer. Coach Saban had John Parker Wilson ready to roll as a junior. He totaled 363 passing yards with three touchdowns, including two to D.J. Hall.
Hall had a career day against the Vols' secondary, catching 13 passes for 185 yards.
Terry Grant pounded Tennessee's defensive front for 104 yards rushing and a touchdown on 26 carries. Kareem Jackson forced two interceptions, and Alabama shut the Volunteers off the scoreboard in the second half.
The Tide earned a 41-17 win over Tennessee, and the team followed up with a 2008 victory at Neyland Stadium. Coach Fulmer would resign after the '08 season, while Saban won a national title in 2009.
1. Terrence Cody becomes legendary with two blocked FG's in 2009 win for Alabama
2009 was supposed to have been a simple game for Alabama versus Tennessee.
Lane Kiffin was in his first year as head coach of the Vols.
It did not feel like a big matchup, especially with Alabama's postseason dreams of a national championship in place. The Tide found different ways to win games that year, but it felt like it could take the Volunteers without issues.
Despite struggles on offense, Leigh Tiffin took care of Alabama. He made four field goals, and the Tide had control of the game. Terrence Cody, a native of Pensacola, Fla., came to Alabama as a transfer from Mississippi Gulf Coast Community College in 2008.
He was tipping the scale at near 400 pounds, but teams were offering him at 385. Alabama got its athletic big man, and Cody blocked a Daniel Lincoln field goal in the fourth quarter.
After a fumble from Mark Ingram, Tennessee recovered and Jonathan Crompton led it to a touchdown. The Volunteers recovered an onside kick, and Tide fans at Bryant-Denny Stadium grew nervous.
Crompton connected with Gerald Jones and Luke Stocker to set Lincoln with another chance. He has a 45-yard field goal attempt and one to give Tennessee a 13-12 victory. All the offseason work paid off for Cody. Whether it was running 110s, weight lifting, proper dieting, or a combination of all, the man wearing No. 62 dug deep for his team. He got his left hand on the ball again, blocking Lincoln for a second time. Fans erupted, players celebrated, Saban jumped, and Cody become a folktale legend.
Alabama rode the play, dubbed "Rocky Block," to its first national title under Saban.
*Get the BEST Alabama football insider information, message board access, and recruiting coverage today! SIGN UP HERE to unlock our subscriber-only content!*
Stephen M. Smith is the managing editor and senior writer for Touchdown Alabama Magazine.  You can "like" him on Facebook or "follow" him on Twitter, via @CoachingMSmith.