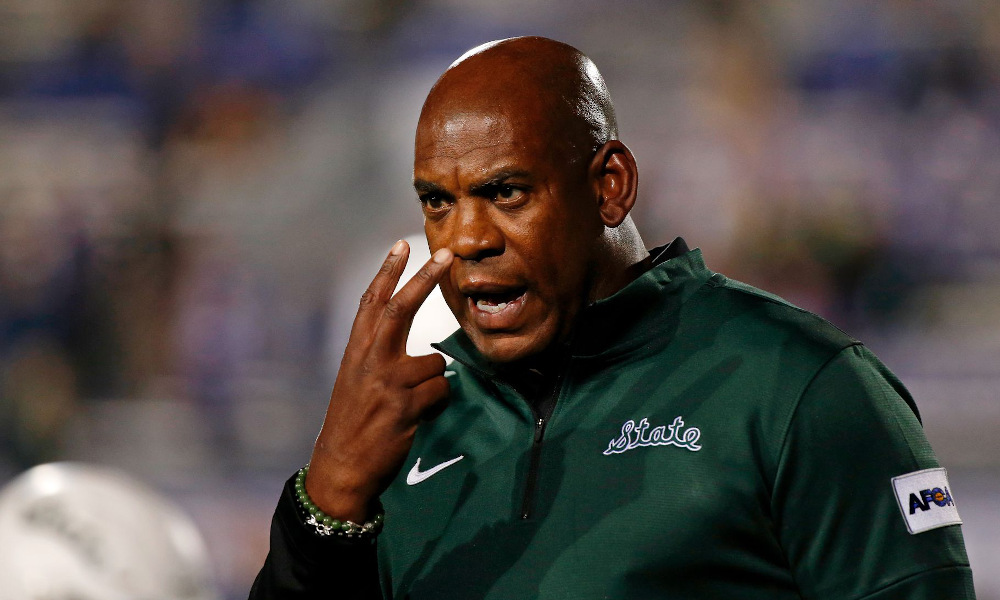 Mel Tucker was a graduate assistant (1997-98) at Michigan State in Nick Saban's coaching tenure.
He saw Saban as a mentor, but now Tucker has his moment. In his second season as head coach, Tucker has the Spartans with a 9-1 record and a half-game behind Ohio State for first in the Big Ten East. Michigan State can put itself in the driver's seat for the Big Ten Championship Game with a win over the Buckeyes on Saturday. Before the matchup, the powers that be for the Spartans are working on locking Tucker down for the long-term.
A ten-year, $95 million contract extension is in the works for Tucker.
The deal would make him the highest-paid African American head coach in any U.S. sport.
Four former Alabama players showed excitement for Tucker on Twitter.
He was assistant head coach and defensive backs coach for the Crimson Tide's national championship team in 2015. Tucker coached the defensive backs to 18 interceptions, including four returned for touchdowns.
He was behind the move of Eddie Jackson from cornerback to free safety. Jackson flourished under Tucker with a team-high six picks (two for scores) that year.
Marlon Humphrey, former Alabama cornerback
My favorite coach! Blessings 🙏🏾 https://t.co/3X0UNwTfVw

— Marlon Humphrey (@marlon_humphrey) November 17, 2021
Shaun Dion Hamilton, former Alabama linebacker
Well deserveddddddd https://t.co/Wjggnxr19I

— Shaun Dion Hamilton (@iam_sdh20) November 17, 2021
Reggie Ragland, former Alabama linebacker
Happy for my guy!!! https://t.co/Y1EZgBQoxn

— Reggie Ragland (@reggieragland) November 17, 2021
Ronnie Harrison, former Alabama safety
Congrats, Hell Of A Coach Much Deserved @Coach_mtucker https://t.co/wJBvPJ1qAw

— Ronnie Harrison II (@Rharr_15) November 17, 2021