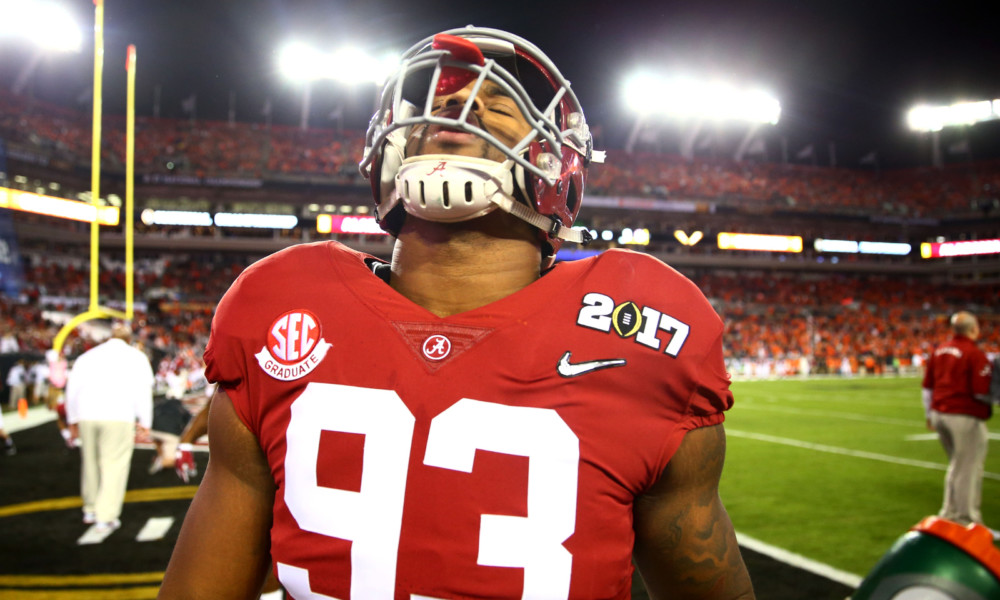 Nick Saban's process is distinct and methodical.
At the University of Alabama, student-athletes practice correctly, play with relentless effort, and compete for conference and national championships.
Coach Saban is not one to relax or cut corners.
His focus shifts to making the Crimson Tide better with each team and each season. Jonathan Allen, an Alabama alum, enjoyed the success of three Southeastern Conference titles (2014-16), a College Football Playoff National Championship (2015), three first-team All-SEC honors, a Unanimous All-American honor, and other individual accolades. Allen got selected in the first round (No. 17 overall) in the 2017 NFL Draft by the Washington Redskins/Football Team/Commanders. He grew up in a military family so Allen was used to strict discipline. Allen witnessed many things from Saban, but he spoke on Tuesday about what stunned him the most about his former college coach. The situation Allen brought up via Twitter Spaces came after the 2015 national title.
Jonathan Allen says Nick Saban was UPSET how defense played after winning national championship
"It was my junior year, and we had won the national championship," Allen said in beginning his most iconic Saban memory.
"It was crazy. Emotions are high, and we are flying back. I remember him on his laptop, doing emails, texting recruits, and in my head, I'm like 'this man is like joking.' There is no way. This is the one day where you can relax and enjoy it. Nope, not even a little bit. After my sophomore year, there were very few things Coach Saban did that stunned me. I was used to his crazy sayings, his off-the-wall hyperboles, and all that stuff. But, I will never forget this one. We had a meeting, a farewell meeting for all the players who were about to go to the draft and for the guys coming back. I had just decided to come back, and Coach Saban says to all the players who were about to go to the NFL Draft, 'congratulations you have finished off your career with a national championship.' We clapped for them, but then he turned to the rest of us and said, 'That's some BS. That is not how we play defense. That's not how we finish a game.'"
Allen did not believe Coach Saban would be upset after winning a national championship, but he learned something different about him.
"At that point in my mind, it switched from it's not about winning, it's about how you win," Allen said.
Mark Ingram, who was on Twitter Spaces with Allen, shared in the sentiment. He shared a story about how Saban demanded excellence from the 2010 team after the '09 team won the first national championship since the 1992 season. Saban has calmed down over the years, but he remains a fire of a competitor. He wants the best effort, performance, and execution from his teams.
Allen became a first-rounder because of Saban's toughness. Hopefully, this year's Alabama team makes a run for the national title.
*Get the BEST Alabama football insider information, message board access, and recruiting coverage today! SIGN UP HERE to unlock our subscriber-only content!*