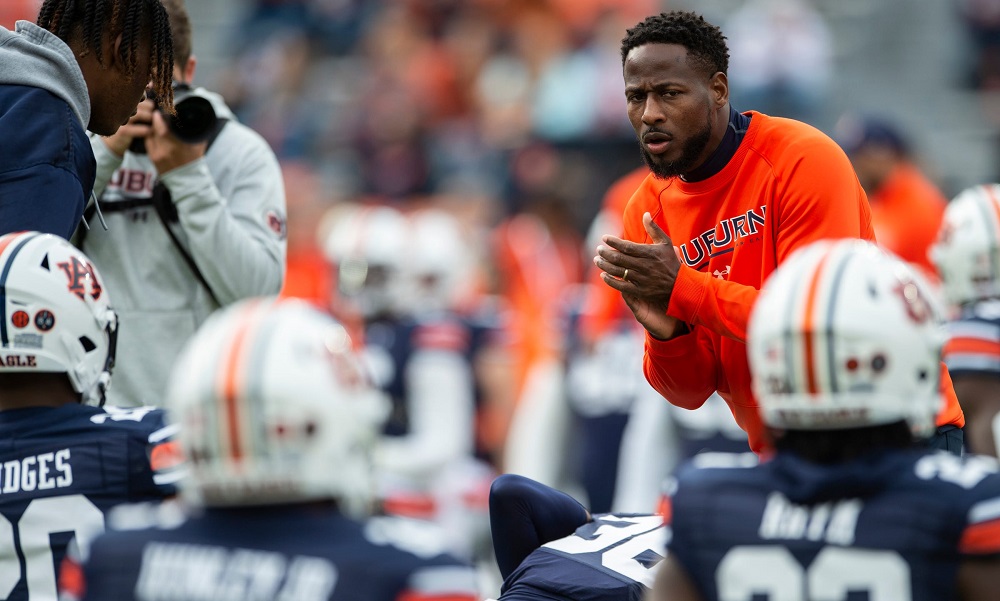 Auburn football's interim head football coach Cadillac Williams is ready to lead the Tigers into Bryant-Denny Stadium for the Iron Bowl.
Williams played at Auburn from 2001 to 2004, and he rushed more than 1,000 yards in both of his final two seasons on the plains. The Tigers are 2-1 with Williams as their interim head coach. Williams reflected on when he was recruited by Nick Saban when Saban was at LSU during his Monday press conference.
"I enjoyed the meeting so much that I actually took an official visit.," Williams said. "I respect coach Saban, just what he stand for, how he challenge his players, how he pours into his players, discipline piece of it. He's a no nonsense guy. His record and what he done throughout his career speak speaks for itself. I think very highly of him. Ronnie Brown played for him. He enjoyed him and most of the players that played for him, um, truly enjoyed him not only as a coach, but as a person."
The Gadsden, Alabama native also discussed Alabama's defense.
"They physical, big, long," said Williams. "We know Anderson, he's a handful. Linebackers are downhill physical guys that can run. Secondary very aggressive, long. We have a challenge here, but man we are looking forward to this opportunity. We are going down there to fight and compete. We are looking forward to preparing this week and see where the chips fall on Saturday."
Auburn and Auburn will square off in the Iron Bowl Saturday. Kickoff is set for 2:30 p.m. CST. The game will be broadcasted on CBS.