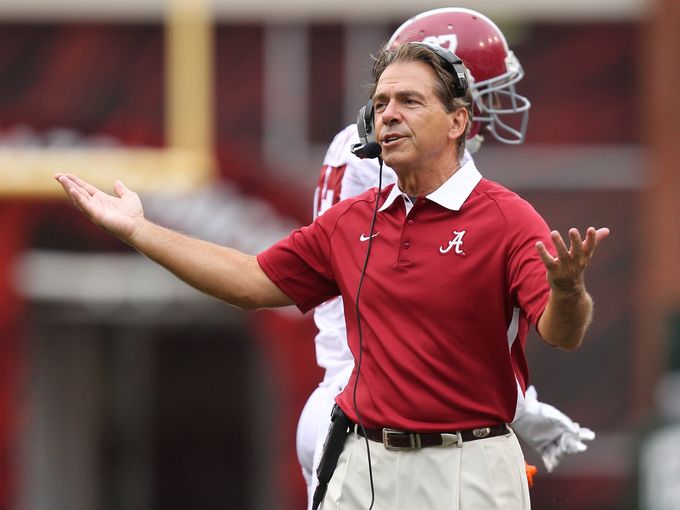 Nick Saban is upset over the many miscues still happening on the team. (photo USA Today / Touchdown Alabama Partner)
Tide Wins Despite Several Miscues, Are They Correctable by LSU Time?
By: Larry Burton
The Tennessee game last week showed several things that football insiders could readily see. First of all, this was a talented team capable of beating Tennessee worse than it did, but it was a team that was extremely tired and worn down. Secondly, there were miscues in the game that could have cost them against a more talented team like LSU. Lastly, no one has a good reason why the Tide looks so sluggish on offense in getting things going in their own home stadium. They can't afford to start this way against LSU, another home game for Alabama.
You never give a team a second chance to finish a drive, but Alabama's very dominate defense did just that in the Tennessee game. The Tide secondary, which has been absolutely great considering the age and experience level it fields, uncharacteristically dropped several sure interceptions which they clearly could have made.
Jacob Coker threw another interception, his seventh of the season if you're counting and if you want to get picky, the 13th he's put in the chest of a defender this season, though the other six were dropped.
The other glaring statistic, the one that drives head coach Nick Saban and offensive coordinator Lane Kiffin crazy is the abysmal third down conversion rate. This past week it was 5 of 12 for a 41% success rate. Tennessee on the other hand was 7 of 13 for a 54% success rate. The sad thing is it was that bad and while at the same time being a step up for them overall. For those Alabama fans who don't know and wish to have their heads planted firmly in the sand, Alabama is number 109 out of all 125 teams in division one in third down conversions. To put it clearer, Alabama sucks and is one of the worst teams in the nation in converting third downs with a 33.33 conversion rate.
And while passing along blame, let's talk penalties. Alabama was flagged for 64 yards on seven penalties, over twice Tennessee's 30 yards of penalties. Again, nationally speaking the Tide is ranked the 80th worst team out of all 125 for penalties this year. To put this in perspective, it's one of the worst teams Nick Saban has ever coached for drawing flags. In championship years of the past, Sabans teams have been among the best in the country.
Now,  how does LSU stack up in these same statistics?
Interceptions: LSU has none so far this season, zero, nada, the big goose egg.
Third Down Conversion Rate: They convert 44.44 of their first downs or 11.11% higher than Alabama. They are ranked as the nation's 28th best team in this stat, 81 places higher than Alabama and yes, this is a huge difference.
Of the only other problem area covered in this article, penalties, at least here the difference isn't as bad. LSU is actually worse, ranking 88th to Alabama's 80th place finish with just 2.1 yards per game difference.
So just based on these statistics, the Tide should have it's hands full with LSU and now the glaring question is, can Alabama correct these mistakes?
Most great football minds say yes. Alabama was a very tired team in need of a week off to rest some bruised, battered and tired players. With that rest, they should be sharp again. Some early problems in other areas seem to be disappearing. The punting and place kicking was excellent against Tennessee and the defense proved to be a very formidable foe to all aspects of the Tennessee offense and the running game proved to solid all day.
Secondly, Jacob Coker is a work in progress and he is improving each week. With that improvement, Lane Kiffin is seeing what his strengths and weaknesses are and is adjusting the play calling to play to those strengths and build his quarterback's confidence. Also those play calls are getting Alabama to get more third and manageable plays, that should also help those third down stats. This combined with a healthier Ryan Kelly and a rested offensive line should show dividends. Kenyan Drake has also had a nasty bruise that will have time to heal. Fans haven't realized just how dinged up Drake was.
Lastly, a tired team is one who gets penalties. The rest should help there too as will the all too vocal coaches who will beat this into his team during the next few weeks.
Alabama has shown but mere glimpses of what it is capable of doing this season when the ball really gets rolling on both offense and defense. At their best, they are unstoppable and perhaps a clear favorite to win it all if they make the playoffs. So far this season, the only team that has shown the capacity to beat Alabama is Alabama themselves with turnovers and uncharacteristically sloppy play.
It would be surprising to see Alabama not be favored by Las Vegas in this upcoming LSU game. This too should tell you that those who know, know these problems are fixable and most likely will be. If they aren't, then it could be another disappointment for the team and the fans of the Crimson Tide.
Larry has been published in almost every media outlet for college sports and now primarily writes here for Touchdown Alabama. Follow Larry on Twitter for inside thoughts and game time comments at  https://twitter.com/LBSportswriter
Thanks for sharing the link to this story on your Facebook page
Come to the "Points After" Forum on the Touchdown Alabama site and discuss your feelings on this article