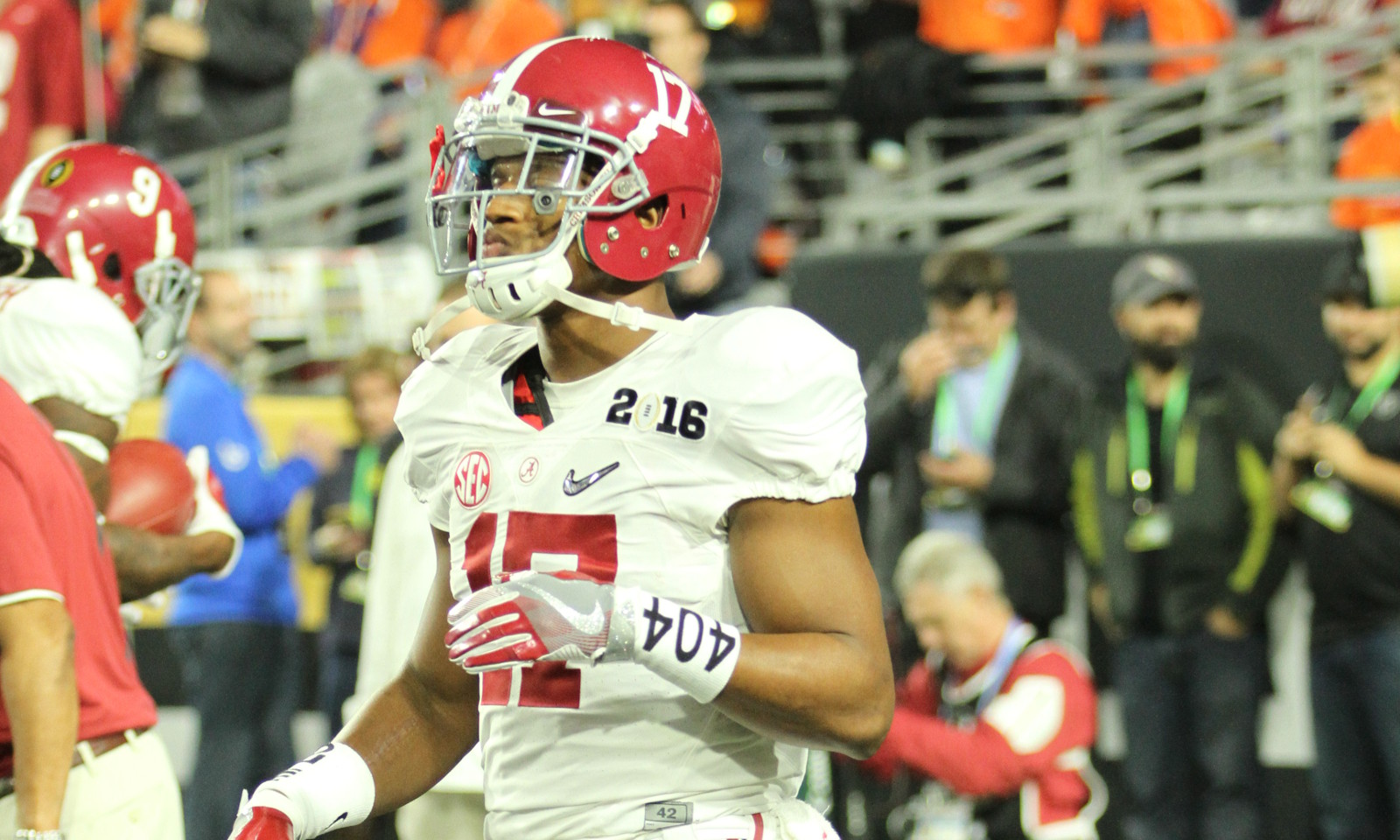 Saturday will be the moment and Ladd-Peebles Stadium (Mobile, Ala.) will be the venue in his journey to becoming a professional athlete.
To say that former Alabama running back Kenyan Drake has been through a lot would be stating the obvious.
He had to check his attitude at the door to begin his career at Alabama and withstood two injuries in order to finish. He came to Tuscaloosa as a four-star athlete from Powder Springs, Ga., yet playing second fiddle behind T.J. Yeldon and Derrick Henry is not always fun. His diversity has been a pleasant sight for Crimson Tide fans, with his finest moment occurring against Clemson in the College Football Playoff national title game.
Kenyan Drake 95 yard touchdown vs Clemson
Drake fielded a fourth quarter kickoff and proceeded 95 yards for a crucial touchdown.
Alabama captured its fourth national title under head coach Nick Saban and Drake would appear on the cover of Sports Illustrated. NFL scouts are drawn to his speed, hands and nifty footwork, but one final element must enter Drake's arsenal, pass protection. He had issues with picking up on coming edge rushers during Senior Bowl practice, an area that both Henry and Yeldon excelled at. Drake's teammate, linebacker Reggie Ragland, got the best on him on a few plays.
The comparisons between Drake and Henry heading into the upcoming NFL Draft are reminiscent of last season with ex-Alabama wide receivers Amari Cooper and DeAndrew White.
Cooper was a concrete first-round pick.
He totaled 1,727 receiving yards and 16 touchdowns on 124 catches in his final year at Alabama (2014). The former Biletnikoff Award winner and Heisman finalist would dominate the 2015 NFL Combine, posting a time of 4.42 seconds in the 40-yard dash with a 10-foot broad jump.
He re-wrote the record books for receiving, recording 3,463 yards and 31 touchdowns on 228 catches. Cooper earned his first NFL Pro Bowl nod this season for Oakland.
White, on the other hand, falls more so into the story of Drake.
He was poised for a huge sophomore season in 2012, until a knee injury against Ole Miss sidelined for the remainder of the year. Regardless of making clutch plays when healthy, mishaps with his knees and shoulder would bother White throughout his career. He finished 2014 with 504 receiving yards and four touchdowns on 40 catches. White along with former Alabama teammate Christion Jones both finished their tenures as 1,000-yard receivers in Tuscaloosa.
White entered the 2015 NFL Combine with one goal in mind, separating himself from Cooper. The Houston, Texas native accomplished this endeavor by posting a time of 4.44 seconds in the 40-yard dash and having a 34 ½" inch vertical.
He took great pride in his route running capabilities and managed to catch nearly every pass thrown in his direction. White's determination led him to signing a free agent contract with the San Francisco 49ers, despite not being selected in the 2015 NFL Draft.
Henry is getting the bulk of media attention and rightfully so being that he is a carrier of various awards, including a Heisman Trophy. He may not be viewed as a first-round value according to some media outlets, but Henry has shown to be the total package.
Special teams is one of the quickest avenues to the NFL.
An individual that is both sound and electrifying has an opportunity to make it. Now, insert Drake into the equation.
He averaged 25.3 yards on kick returns in 2015, accounting for 505 yards and a score on 20 attempts. For scouts to get a closer view of his fielding, acceleration, vision and cutback abilities, Drake will be asked to return kicks and punts at the Senior Bowl.
Prior to breaking his leg in 2014, he was clocked in the high 4.3s to sub 4.4s in the 40-yard dash. The mark was improved to the mid 4.3s upon finishing a strenuous rehab, which included time on an anti-gravity treadmill. His big play abilities in open space as a receiver is another reason why Crimson Tide fans will be pulling for him this weekend.
Drake's career at Alabama ended with only four touchdown receptions, but trying explaining that logic to the Florida Gators. The 6-foot-1, 210-pound back torched Florida's secondary in 2014, when he lined up in the slot and brought in an 87-yard touchdown pass from quarterback Blake Sims.
Kenyan Drake (Alabama RB) vs Florida 2014
In moments where he could not run the ball, offensive coordinator Lane Kiffin used Drake as a match-up nightmare either in the slot or as a vertical target. Kiffin's scheme and Drake's athleticism either opened a chance for a teammate to have success or it placed Drake on a linebacker, which gave the quarterback a green light to toss the football to him.
Percy Harvin, LeSean McCoy, C.J. Spiller and Reggie Bush all possess some of the same traits that Drake has. Harvin, Spiller and Bush have sustained injuries in their careers, yet each one bounced back to become a solid contributor to their teams.
A renewed mindset coupled with a balanced work ethic granted Drake 2,668 all-purpose yards and 22 touchdowns in his four-year career. He chimed in with 1,189 all-purpose yards in 2015, which stands as the most in his career despite a suffering a fractured right arm against Mississippi State.
Drake is going to put butts in seats just off his style alone; however, he can become an asset in the NFL if he is able to fine tune all parts of his game. He needs a string of events where all eyes are on him and Saturday's competition will be his first audition.
Stephen M. Smith is a senior analyst and columnist for Touchdown Alabama Magazine. You can "like" him on Facebook or "follow" him on Twitter, via @ESPN_Future.