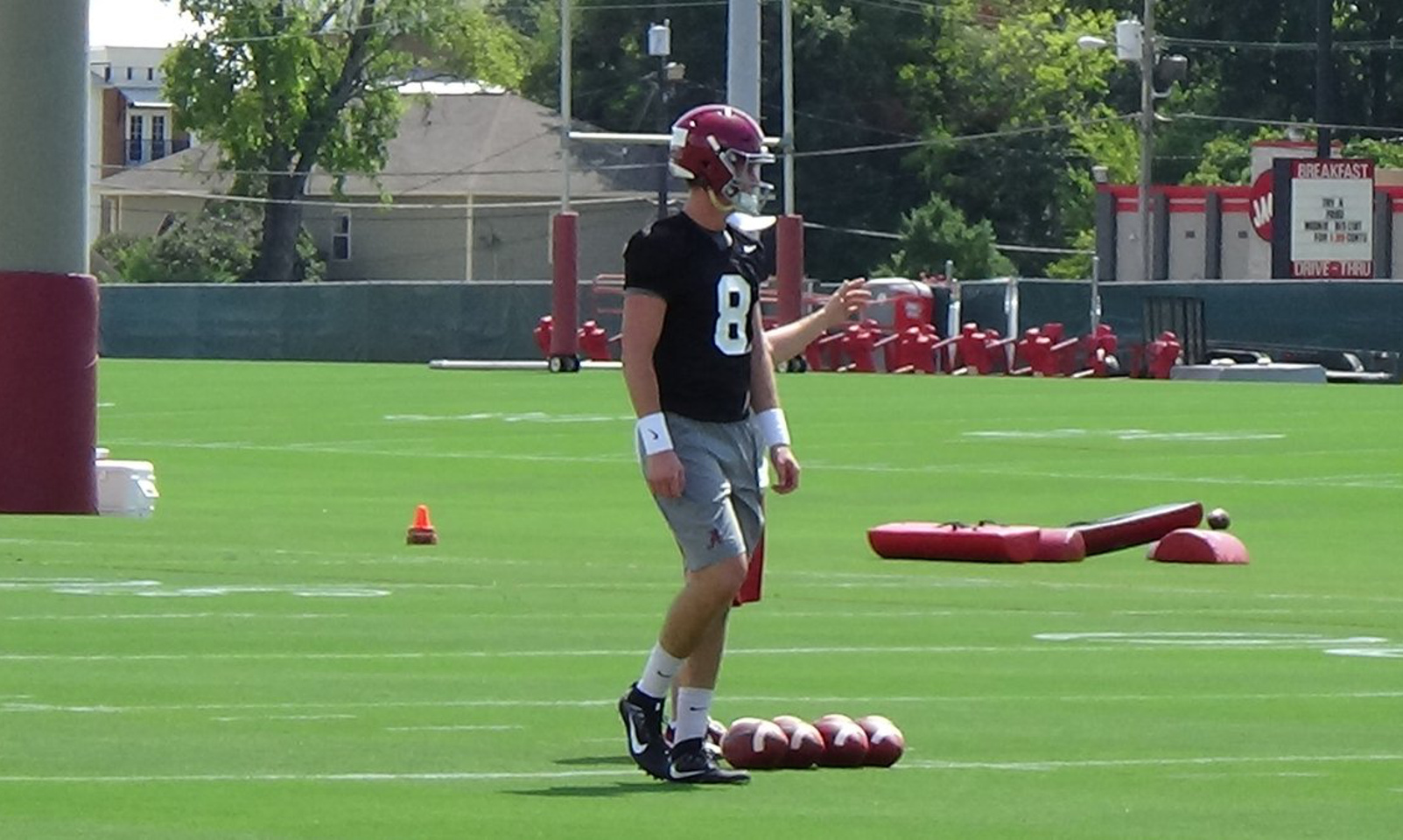 Alabama's quarterback situation is weird, and offensive coordinator Lane Kiffin understands.
Prior to being hired to Nick Saban's staff in 2014, Kiffin was used to seeing quarterbacks start at least two seasons. In his first six years at Southern California (2001-06), Kiffin mentored Carson Palmer, Matt Leinart and John David Booty into being competent leaders.
Despite Booty starting just one season (2006) under Kiffin, Palmer and Leinart both had at least two.
The pair would each win a Heisman Trophy, while Leinart guided the Trojans to two Associated Press national championships in 2003 and 2004. Kiffin returned to USC as a head coach in 2010, molding an NFL Draft pick out of Matthew Barkley—who started three years from 2010-12.
Kiffin is in his third quarterback competition at Tuscaloosa and despite the success of both Blake Sims (2014 Southeastern Conference champion) and Jacob Coker (2015 national champion), he would like for someone to win the job sooner rather than later. Kiffin was second to approach the podium on Sunday for the media day session of fan day. He said it's all about finding the right guy.
Lane Kiffin on Alabama's QB competition pic.twitter.com/f9REmmUGAM

— Stephen M. Smith (@CoachingMSmith) August 7, 2016
"We are in an area where we had four a year ago and now we have four at this point," Kiffin said on quarterbacks. "We would love to get it down to one and that's the best thing, but we don't want to eliminate anyone because it has been the strangest battle over the last two years."
Kiffin continued with: "There is no timetable for it."
With David Cornwell dealing with a foot injury, it appears the competition has narrowed down to three guys—Cooper Bateman, Blake Barnett and Jalen Hurts. Barnett and Hurts both displayed accuracy and poise in the pocket on quite a few passes during Sunday's open practice. Bateman struggled at first, but started to locate some rhythm near the end, hitting O.J. Howard for a score.
Kiffin said Barnett has been looking good thus far in fall camp.
"When Blake first got here he was performing extremely well," he said. "There were times when we thought he was really in the battle last year to be the guy. But like any other freshman, he would have some ups and downs in practices and did not have his best spring."
Kiffin said Barnett has had a great offseason after overcoming weight issues.
"He's now bigger and stronger than he's ever been," he said. "Through a couple of days, he looks really strong, has very quick feet and is continuing to grow within the offense."
As for Hurts, Kiffin could only use one line…"Very special skill set."
"If you come in as a mid-year freshman and you perform well, then you are going to be really good," Kiffin said on Hurts. "He's a very strong kid. One of our top lifters in strength, verticals and 40 times."
"He's just continuing to learn a new system from where he was in high school and that transition for all players is difficult, but he's handled it really well."
Kiffin said Alabama is excited about what Hurts has done and his ability to make big plays.
Stephen M. Smith is a senior analyst and columnist for Touchdown Alabama Magazine. You can "like" him on Facebook or "follow" him on Twitter, via @Smsmith_TDALMag.