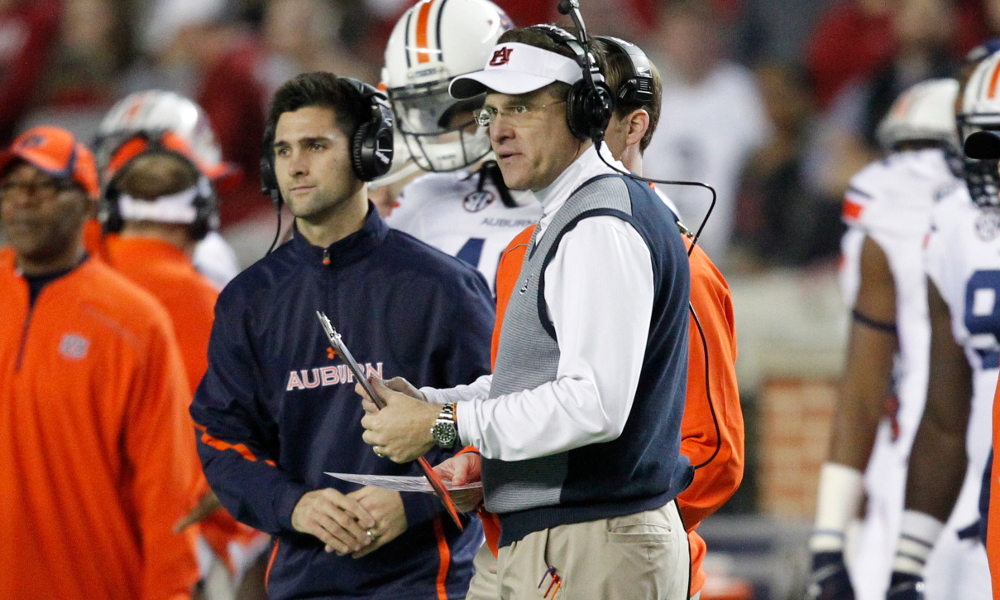 Weaver's Web is an opinionated column by TDA's Jake Weaver. All views and opinions shared are his own. 
The Jarrett Stidham hype has fans and media alike believing in Gus Malzahn's 2017 Auburn Tigers.
Fans believe in Stidham as a Heisman candidate, and Vegas, too, has him listed as one of the top most likely to win the prestigious trophy. While Auburn fans are oft reminded to keep their expectations in check after what happened with the hype of Jeremy Johnson a few years ago, many expect this situation to be different.
Additionally, the media ballots were revealed at the conclusion of SEC Media Days last week. Auburn was voted a strong favorite for the two spot in the West behind Alabama. With three straight five-or-more loss seasons, a good year with a Heisman candidate may be all that's left to save Gus Malzahn's job.
And while they will certainly be good, they will not be good enough.
Jarrett Stidham will shore up the deficiency at quarterback that plagued the team in 2016, but he can not play on defense, too. Yes, the Tiger defense ranked fifth in the SEC last year under Kevin Steele, but they lost a lot of the elite talent that helped them get to that point.
Johnathan Ford and Joshua Holsey were staples of the Tigers' defensive backfield, combining for 94 tackles, three interceptions, 17 pass deflections, and 6.5 tackles for loss.
To make matters worse, they also lost their two best players in Carl Lawson and Montravius Adams to April's NFL Draft. The two lead the team in tackles for loss (14.0 for Lawson, 8.0 for Adams), and in sacks (9.5 for Lawson, and 4.0 for Adams). They both also forced a fumble and went for 73 total tackles combined.
What made the defense so good, simply put, was their veteran leadership. While returners like Dontavius Russell, Tre Williams, and Tray Matthews are good candidates to step into leadership roles, the production holes left by the departing stars will likely be too much for Malzahn's team to replace.
The same could be said for the Crimson Tide's defense with the loss of so many defensive stars, but Nick Saban has shown the ability and desire to run a very tight ship with excellent recruits ready for bigger roles – something Gus has not done as evident by three straight subpar seasons.
Stidham threw for 1265 yards, 12 touchdowns, and just two interceptions in 2015 with Baylor. He came into the spring game with a whole lot of hype and, sure enough, he delivered. He threw for 267 yards on an efficient 16-for-20 day and was named Offensive MVP. Under the guidance of newly-hired offensive coordinator, Chip Lindsey, and with a strong running game headed by Kamryn Pettway, the offense is likely to be the best it has been since the reign of Cam Newton. However, fans – and even the media – can be very shortsighted.
One player does not a team make. They will be a strong competitor in the West, but the loss of two of their best offensive linemen to the NFL is not a simple fix, and it will take time for their replacements to gel. Fortunately for Gus Malzahn and the Tigers, they have an easy match up in Week One with Georgia Southern.
Yet, a Week Two game in the house of the defending national champions will not be as nice to them. Even though Deshaun Watson is gone, Dabo Swinney's Clemson Tigers will be fired up with the idea of playing spoiler to the Auburn Tigers' season after their close victory in Jordan-Hare last year.
Watch your step, Tigers' fans. When Malzahn's teams have high expectations they tend to flop. If they do it again this year, the Gus Bus will go flopping with it.
Jake Weaver is a lead writer for TD Alabama Magazine and Bama Hoops Hype. You can contact him via phone at 205-612-5060, or on Twitter @JWeaver_TDALMag