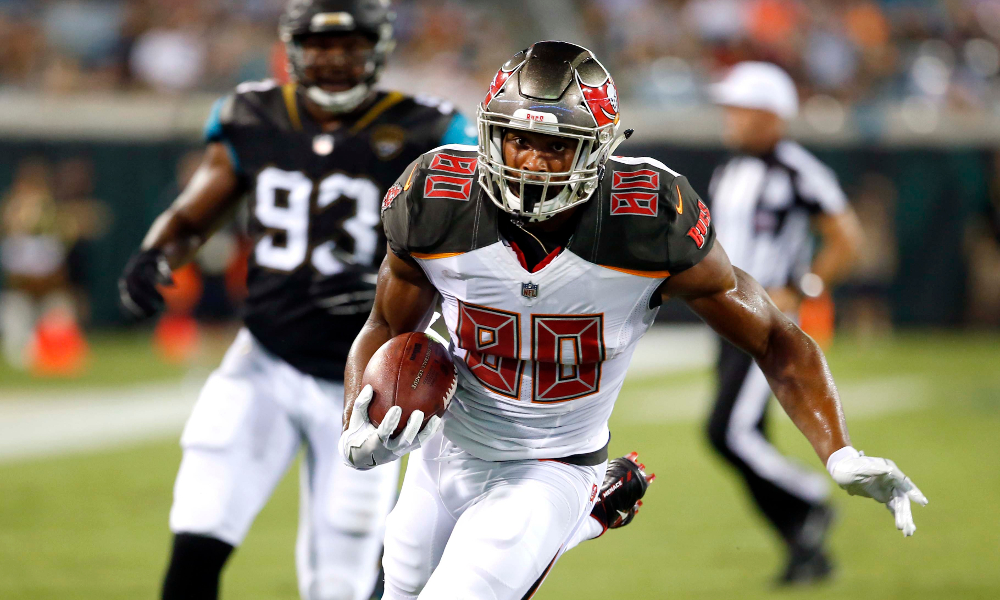 His NFL debut was not bad by any means, but O.J. Howard's pass catching abilities were not allowed to shine. Week two was a different story for the first round tight end out of Tuscaloosa.
In two quarters of play, Howard helped the Bucs to a 12-0 lead as he hauled in two passes for 28 yards. Both 10+ yard receptions, both first down snags, and the first on the night was merely four yards short of turning into six points. Throughout his preseason play, Howard has also proven the ability to be a powerful run blocker, opening lanes for veteran running back Doug Martin.
While we are only two weeks into the preseason, one thing can be said for sure: O.J. Howard can flourish in Tampa Bay with Jameis Winston at quarterback. A gunslinger in every sense of the word, Winston has proven to be an excellent quarterback for the Bucs since being taken number one overall. With so many weapons now in town, his aggressive mentality will give them each a chance at making plays.
After going 9-of-13 for 99 yards last week, he came out firing again in the first half of this week's game. He completed 21 of his 29 passes for 196 yards, leading four scoring drives. The Super Bowl winning coach, and ESPN NFL commentator, Jon Gruden, took to the air to share his thoughts on Winston during Thursday night's game. In addition to the positive comments on the broadcast, he also complimented Winston during HBO's Hard Knocks. Despite all of the compliments, Gruden noted Winston's biggest flaw to be his overly 'aggressive' play at times.
Winston's decision making can be questionable at times, but that gunslinger mentality will work in O.J. Howard's favor in 2017. At Alabama, he was considered underutilized by the fans and the coaching staff. That will not be the case this season as the Bucs are a pass-happy team, sometimes despite their better interest. An 'overly aggressive' quarterback is not Howard saw during his time in Tuscaloosa, but it is something he could get used to in Tampa Bay.
Jake Weaver is a lead writer for TD Alabama Magazine and Bama Hoops Hype. You can contact him via phone at 205-612-5060 or on Twitter @JWeaver_TDALMag