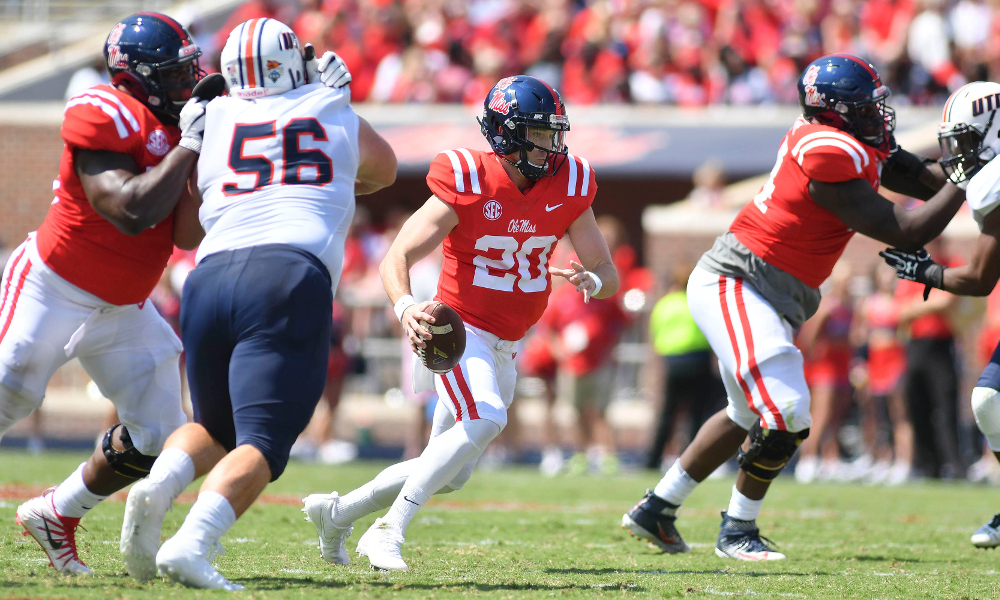 Through the first three games of what would become a Heisman season, Texas A&M's Johnny Manziel totaled 903 yards and 12 touchdowns. Through three games in his first full season as Ole Miss' starting quarterback, Shea Patterson has 1281 yards and 11 touchdowns. Though Patterson has not been asked to be a major contributor in the ground game like Manziel was (262 of his total yards came on the ground), he has proven the ability to do so. In the three starts he made a year ago, Patterson managed 169 yards rushing. His athleticism and escapability is what has made the comparison to Manziel so accurate.
During July's SEC Media Days, I asked Patterson about being compared to the Aggies' star by the other players in attendance. He said he appreciated the comparisons, and that he watches a lot of film on Manziel and Aaron Rodgers, but also that he wanted to be his own type of player. So far in his young career, the comparisons ring true, as he appears to be a star-in-waiting.
His playing style will be eerily familiar to Crimson Tide fans that have not yet had a chance to see him. The way he holds the ball high up when he scrambles, the ability he has to be a Houdini in the pocket, and his extreme confidence are all comparable to the Heisman Trophy winner. Even Nick Saban – who rarely likes to draw comparisons – mentioned the similarities between the two.
What may ultimately help differentiate Patterson from his Johnny Football counterpart could be his pocket presence. One of he biggest knocks on Manziel on the field was his short stature as he stood at just under six-feet tall. Shea Patterson, on the other hand, is listed at a healthy 6'2″. The true sophomore also does a better job at staying in the pocket and trusting his arm, something that plagued Manziel throughout his career.
Alabama fans will begrudgingly remember the difficulties Manziel gave the Tide's defense over the course of two games. If all of these comparisons are accurate, and Ole Miss' woeful offensive line used the bye week to improve, the Patterson vs. Linebackers battle will be one to keep a close eye on. If there has ever been anything Alabama's defense struggles with it's athletic, scrambling quarterbacks. If that quarterback is a taller version of Manziel with better receivers? Well, the game in Tuscaloosa should be a fun one to see at 8 o'clock tonight.