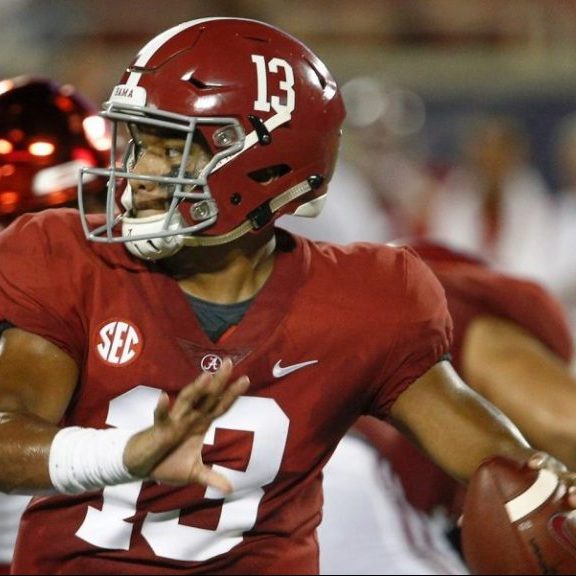 The 2020 NFL Draft is nearly 18 months away and it's extremely early to make projections but what if certain players could leave school in two years instead of three? This is a hypothetical question but one that is intriguing. It applies to players who are transcendent and generational. Players that I put in that category are Calvin Johnson, Adrian Peterson, and Cam Newton. Those aforementioned, dominated the college game and eventually the professional level.  Tua Tagovailoa may belong in that group after his Alabama career is said and done. 
It's clear after three weeks of the 2018 college football season that Tagovailoa is a transcendent player. It was proven in the College Football Playoff Championship, when he came off the bench to lead an amazing second-half comeback against Georgia as a true freshman. However, he has further cemented his elite status by leading the most prolific offense Alabama has ever seen and he's doing so in dominant fashion. In 3 games, the superstar sophomore has completed 72 percent of his passes for 646 yards, and 8 touchdowns against zero interceptions. The craziest part about all this, is that he is 13 of 13 on third down plays. Including, 7 of 7 on third down plays of ten yards or more. 
Will Grier, Dwayne Haskins, and Justin Herbert could headline the 2019 quarterback group but after that no other quarterback prospect screams first round pick. If Tagovailoa were eligible for the 2019 NFL Draft, he would definitely go in the first round, likely as a top five selection. The 2019 quarterback class is weaker than the star studded 2018 class (Baker Mayfield, Sam Darnold, Josh Allen, Josh Rosen and Lamar Jackson) and 2020 will be the year of Tagovailoa. Every team will have him as the best passer and possibly the best player on draft boards regardless of position. 
Tua possesses leadership ability that teammates rally around, and a skill set that drives defenses crazy. Those are the traits of an elite NFL franchise quarterback. He isn't the most physically imposing player at 6'1, 218 pounds, yet he makes up for it with a strong competitive nature and rare playmaking ability. He figures out how to maximize a play even if it isn't executed properly. This allows time for receivers to get open for explosive plays down field. His game reminds me of Seattle quarterback Russell Wilson because of his ability to improvise and extend plays. That's a skill shorter quarterbacks must have to create throwing lanes. In addition to that, Tagovailoa can play effectively from the pocket, attacking defenses at ease with excellent accuracy and anticipation. Many young quarterbacks struggle with that at the NFL level but Tua seems to be a natural at throwing receivers open from a stationary position. 
There are teams who will be in the market to select a quarterback in 2019 and 2020. Here are a few franchises that may need the services of the talented Alabama passer in years to come: 
New Orleans 
New Orleans will certainly be in the hunt for a young passer to replace Drew Brees after his concert expires in 2019. Sean Payton is one of the greatest offensive minds in football and could do wonders with a player like Tua in one of the NFL's most wide-open offenses. 
New England 
Tom Brady is only getting older and Bill Belicheck must think about the future. The Patriots have great respect for players from Alabama based on draft history, so why not draft a player from there that happens to fill an inevitable need. 
New York Giants 
Eli Manning is in the declining stages of his career. His shaky play dampens an offense that features Odell Beckham and Saquan Barkley, who are young star players in their primes. Tua would provide an instant upgrade over the aging veteran and his mobility would help a Giants offensive line that has struggled so far in 2018. 
Denver  
In the offseason, Case Keenum to two-year deal and he's not considered a long-term option for the Broncos after his contract expires. With that being considered, it would make sense for general manager John Elway to select a quarterback with a first round pick in 2020. Tagovailoa is an upgrade over any Denver quarterback since the retirement of Peyton Manning in 2015. 
Alabama fan's what you are witnessing is once and a lifetime. Be thankful, the Tua Tagovailoa show is just getting started and it won't be long before that show is aired on Sunday afternoons.