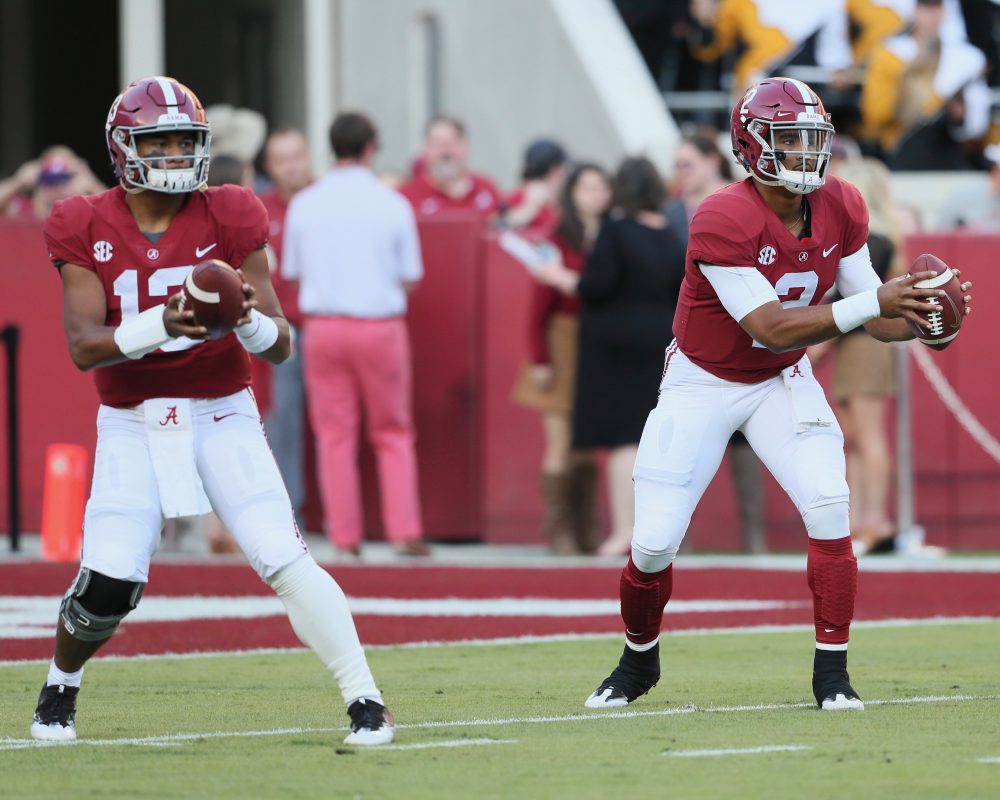 So far Alabama's offense has been unstoppable, but now they're coming up on teams with much better defenses than they've played so far. Can it continue?
A Sobering Thought for Alabama Fans When They Play LSU
By: Larry Burton
Alabama enters the LSU game as a favorite and that is to be expected given how the two teams have fared so far this year. Las Vegas has them a 14 point favorite, one of the lowest margins they've given Alabama so far this season. And there is a reason.
Something that Alabama fans may not have realized yet is that they haven't been tested like they will be Saturday night in Tiger Stadium under the lights. So far this season, Alabama hasn't played a team with a defense higher rated than 35th place. That's right, no team rated higher than 35th place in total defense.
LSU by contrast, is 22nd and it will be a legitimate test of how Alabama's offense will handle better defenses in the stretch run of the their SEC schedule. This will certainly be a much needed test, because down the road is Mississippi State has the nation's number 6 defense and in case you didn't know, that's higher than Alabama's rating in total defense. Alabama presently is rated as the nation's 16th defense. Should they face Georgia in the SEC championship game, they are the nation's 14th best defensive unit, two spots higher than Alabama and if they should face Kentucky, they'll really face a hot defensive squad. Kentucky is rated at the nation's 10th best.
Defensive Stats of Alabama's Possible Remaining Teams (considering the SEC Championship)
So while Tua seems to be running away with the Heisman early projections, this season he hasn't played a team with a defense that rates out good so far. Playing teams in this realm of total defenses certainly hasn't hurt him. Now folks will see how he fares against a team with a seriously good SEC defense. Should he continue to put up Tua type numbers, then he's of course a shoo in for the award. A stumble here and against Mississippi State will legitimize the naysayers who point at the level of competition he's faced so far.
So as you can see, with Tua's Heisman hopes, Alabama's undefeatable image and unstoppable offense will all be under intense scrutiny for the rest of the season except for the Citadel game.
But, to be fair, let's examine the other side of this coin.
Should Alabama run up over 30 points in the first half of this game as it has all season, then that's a very sobering thought for the teams they'll face in the season ending run. They'll shudder that LSU did little to slow the Juggernaut which is the Alabama offense and wonder how they can do what no one else has seemed to be able to do.
Larry has been published in almost every media outlet for college sports and now primarily writes here for Touchdown Alabama. Follow Larry on Twitter for inside thoughts and game time comments at https://twitter.com/LBSportswriter
THANKS FOR SHARING THE LINK TO THIS STORY ON YOUR FACEBOOK, TWITTER, SNAPCHAT, INSTAGRAM OR OTHER PAGES OR A FACEBOOK GROUP YOU BELONG TO. PLEASE SHARE!