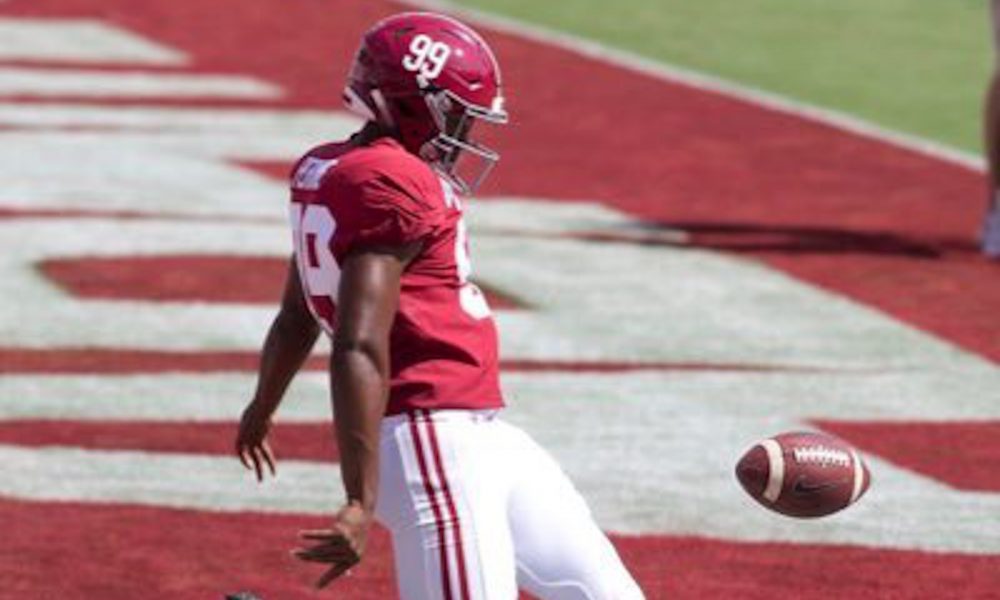 Nick Saban is celebrating a couple of anniversaries this season. 
People have brought up the two-year mark of his famous "Rat Poison" speech after the Texas A&M game and it's also the 10-year anniversary of "Rocky Block" versus Tennessee in 2009, featuring Terrence Cody.
These memories are second nature; however, Saban is approaching a one-year mark for something that has yet to be mentioned by reporters so far this week. 
In the 2018 meeting with the Volunteers at Neylan Stadium, Alabama replaced Skyler DeLong for a walk-on punter in the starting lineup. Despite being highly-touted out of South Carolina, DeLong struggled through the first five games of last season, and Mike Bernier got the nod. 
A native of Madison, Ala., Bernier totaled 41 yards a punt against Tennessee and went on to record at least 40 yards per attempt in matchups with Auburn (41.0), Georgia (42.0) and Clemson (50.0).
He was not an elite name, but Bernier gave the team more consistency as a specialist than DeLong did.
One of the first things Saban wanted to do in being hired as the Crimson Tide's head coach in January of 2007 was give fans a product it can be proud of. 
While people are up in arms about the defense, it's actually starting to improve. 
Since the departure of JK Scott to the National Football League, the excellence in punting hasn't been displayed and fans are not happy.
Alabama gave Tua Tagovailoa an opportunity when Jalen Hurts was struggling and it awarded Bernier with a chance, but it has a specialist on the roster who is capable of creating the same exceptional play as Scott did from 2014-17. 
The Crimson Tide had success in getting Nick Perry and O.J. Howard from the Prattville (Ala.) area, but now meet Tylan "Ty" Perine.
Per his former high school coach – Caleb Ross – teammates and close sources, Perine is the 'real deal' and the Tide needs to look at him. 
The 6-foot-1, 190-pound kicker/punter was a weapon at Prattville High School, driving balls between 40 and 70 yards.
His shortest boot — according to Hudl — traveled 39 yards, but it positioned the returner inside its 5-yard line.
More impressive than his distance is Perine's hang time on punts, which his average stood at 4.7 seconds.
The ability to control an explosive return man, flip field position and put one's defense in a spot to be successful is critical in college. 
Perine helped the Lions notch a 7-4 record in his senior year (2018) as the team clinch a berth in the Class 7A state playoffs. When it comes to providing confidence, no one did quite like Perine – especially coming from one of his teammates from that season. 
Wade White, senior defensive back at Prattville, referred to Perine as 'consistent.' 
"First on the field and last to leave," White said of the Alabama walk-on. "We could count on him to pin the ball wherever Coach requested." 
When it comes to Coach Ross, he knows Perine is not with the nonsense. 
"The first thing you need to know about Ty Perine is that he is an incredible human being," Ross said. "He is a real smart kid…just one of those guys that is going to be successful in life, regardless if he is punting at Alabama or going into business." 
Although Ross would have just one season with Perine, he could immediately tell the athlete he inherited from the previous coach.
Not only does Perine have a leg, but Ross said he was a multi-talented player. 
"He might have been one of the fastest kids on our team," Ross said. "He probably had the strongest arm on our team also. Ty could probably throw the ball 60 yards. He was a really good soccer player. From my understanding, they asked him to come out his freshman season and he fell in love with it." 
In four years with JK Scott, Tide fans loved how the ball sounded and traveled off his foot.  
The moment the 6-foot-4 golden leg from Colorado made connection, one could forget about crafting a positive return. He never won the Ray Guy Award and though he posted a career average of 45.6 yards per punt, supporters of Alabama stopped giving that honor any attention. 
Judging from Ross' comments, the program may have its new electric leg. 
"He has an exceptionally strong leg," Ross said of Perine. 
"I recognized it on the first day I was here. He was punting and it sounded different coming off his foot. I kept telling myself if he can get consistent, he can kick on Saturdays and Sundays." 
Probably the coolest thing about Alabama's next superstar is he is self-made. 
Perine did not need a trainer or special coaches. A few people may have put in time with him; nevertheless, Ross said he was self-taught and stayed that way until he senior year. 
"He handled our kickoffs and was our place kicker, but his real spot is going to be at punter," Ross said. "I am sure he will be excited to get an opportunity. Ty is a guy, who loves to compete and wants to win. He wants to help Alabama in any way get a win." 
Even though smaller school offered a scholarship, Perine turned it down for a chance to be coached by Saban.
In speaking with sources close to Perine, the general notion is Saban has to give him a chance. He played soccer since childhood and juggled it and football as he got older, but soccer was his first love. One source, in particular, said Perine is not the average punter. 
"He can straight up hit too," the source said. "Perine played safety at high school also and was not afraid to light people up. If the Tide choses to keep him at punter, he would be really good for trick plays. He has incredible wheels and will take off." 
Alabama is perfectly fine with Will Reichard as its place kicker, but it also good to note that Perine drilled a 64-yard, game-winning kick for Prattville versus Stanhope Elmore last season. 
He spent time at Mike McCabe's: One on One Kicking Camp, prior to arriving at Alabama. 
The site has produced some NFL specialists – including Patrick McAfee, Matt Bosher, Cody Parkey and Eddie Pinero. A few players such as Parkey (Auburn), Pinero (Florida), Dylan Breeding (Arkansas), Shane Tripuka (Texas A&M), Johnny Townsend (Florida) and Reichard all hail from the Southeastern Conference. 
Saban is about winning championships and putting the best players in the right situations to achieve it. He has done it in recent years, but here is another opportunity to put another quality athlete on the field. Perine has the tools to turn the punting around, make the defense better and help the Tide become a bigger force. The question is will he look to give the walk-on a chance? 
*Get the BEST Alabama football insider information, message board access, and recruiting coverage today! SIGN UP HERE to unlock our subscriber only content!*
Stephen M. Smith is the managing editor and senior writer for Touchdown Alabama Magazine.  You can "like" him on Facebook or "follow" him on Twitter, via @CoachingMSmith.