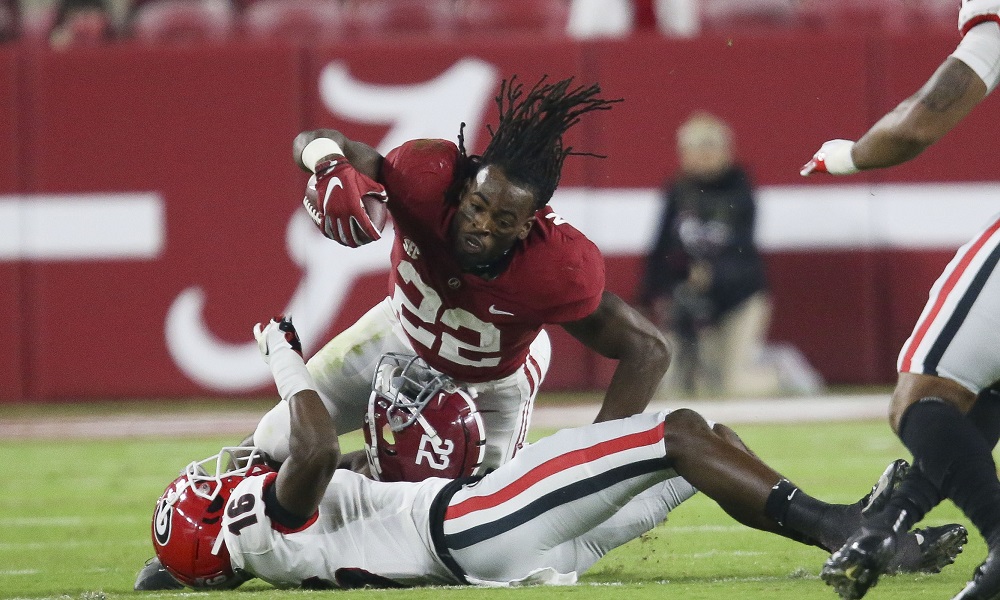 The Georgia Bulldogs have a 24-20 lead over the Alabama Crimson Tide at the half.
Alabama scored touchdowns on two of their first half drives and were able to knock in field goals of 33 yards and 52 yards. The Bulldogs came away with touchdowns on three drives and nailed a 50-yard  field goal to lead by a touchdown.
Mac Jones and Alabama's explosive offense has been slowed down a bit by Georgia's experienced defense, which has open the door for the Bulldogs to secure a lead. Some defensive miscommunications and an inability to stop teams on third down continue to hurt Alabama on defense. Nick Saban and company will try to clean that up during halftime.
Georgia gets the ball to start the second half.
Alabama's offensive stat rundown:
Mac Jones 15/23, 224YDS, 2 TD, 1 INT
Najee Harris 13 ATT, 80 YDS
Devonta Smith 6 Rec, 86 YDS, 1 TD
Alabama's Defensive Stat Rundown
Dylan Moses 7  Tackles
Daniel Wright  3 Tackles
Patrick Surtain II 3 Tackles
Justin Eboigbe 1 Tackle, 1 INT
Scoring Summary:
Both offenses got off to a bumpy start as Mac Jones threw an interception on the first play of the game and Stetson Bennett returned the favor on Georgia's first drive as his pass was intercepted by Justin Eboigbe off of a DJ Dale tipped pass. Jones was able to get Alabama's offense back on track on the following drive with a 40-yard strike to John Metchie to put the Crimson Tide up 7-0 early in the first quarter.
After two punts from both sides, Zamir White ran in a 20-yard touchdown for the Bulldogs to tie the game 7-7 with 1:58 left in the first quarter. That drive began on Georgia's 43-yard line after a 30-yard punt by Sam Johnson. After forcing an Alabama punt the following possession, Stetson Bennett hit James Cook for an 82-yard touchdown pass to put the Bulldogs up 14-7.
Alabama would respond to the Georgia score with a 33-yard field goal from Will Reichard to trim their deficit to 14-10 with 9:07 left in the second. Georgia knocked in a 50-yard field goal to put the Dogs back on by seven on the following drive.
The Crimson Tide were able to get their second touchdown of the game on 17-yard touchdown pass from Mac Jones to Devonta Smith to tie the game with 3:12 left in the second. Georgia's last score of the second half was on a Jermaine Burton 5-yard touchdown reception to go up 24-17. Will Reichard made a 52-yard field goal to close the half.