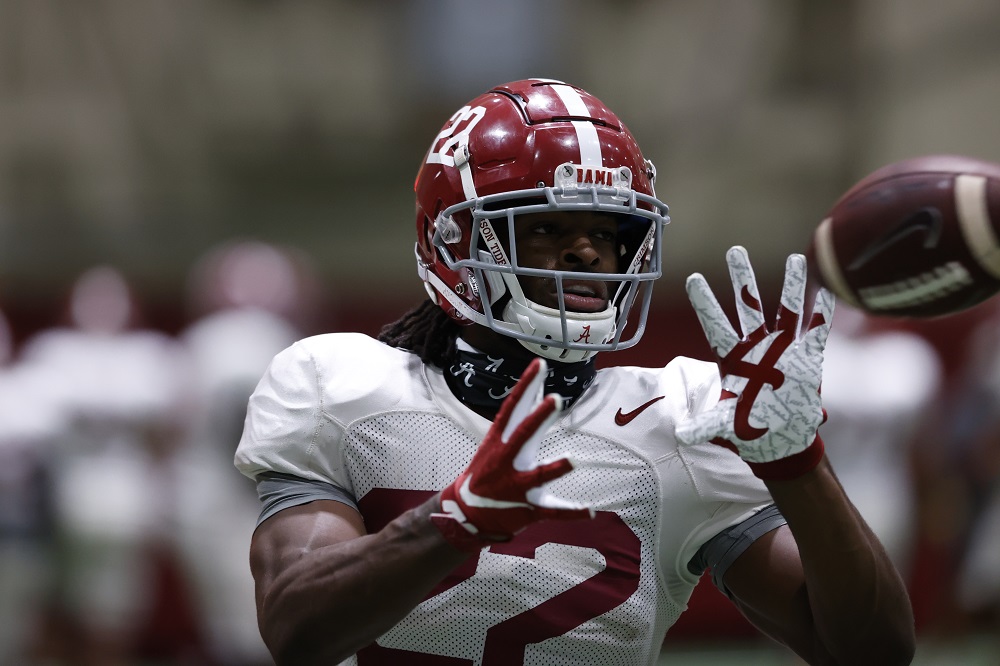 Najee Harris is putting together an impressive season on the ground, but wants it to be known that he is worthy of being associated with Alabama's outstanding 'rydeout' wide receiver corps.
The 'rydeouts' is the nickname for Alabama's wide receiver group and Harris wanted to inform everyone that he is indeed a rydeout after Alabama defeated Kentucky 63-3 in Bryant-Denny Stadium.
"First of all, I am going to start by saying, I am a rydeout by the way yall," Harris said while laughing. "I always tell Smitty (DeVonta Smith) this. I am a rydeout. I know I maybe do not have the receiving yards. He (DeVonta Smith) energizes me to play more. I see him catch the ball out there and I say man, I got to get me one of these touchdowns, receiving touchdowns, so I can be a rydeout. I know I am rydeout, but he do not ever say it, make sure yall put that out there too, say Najee Harris is a rydeout."
Harris has pulled in 22 receptions this season for 210 yards. He has an opportunity to pass his yardage mark from last season of 304 receiving yards with two games left on the Crimson Tide's schedule. Although he has has yet to score a receiving touchdown this season, Harris caught seven in 2019, displaying rydeout tendencies.
This season has been good to Harris despite him not putting up big receiving numbers.  The California native has scored on the ground 16 times and rushed for 797 yards. He has also put together thee 100-yard performances, including a 206 rushing0yard performance against Ole Miss.
Alabama shows no signs of going away from the passing game, so Harris should get an opportunity to show the world he is a rydeout.