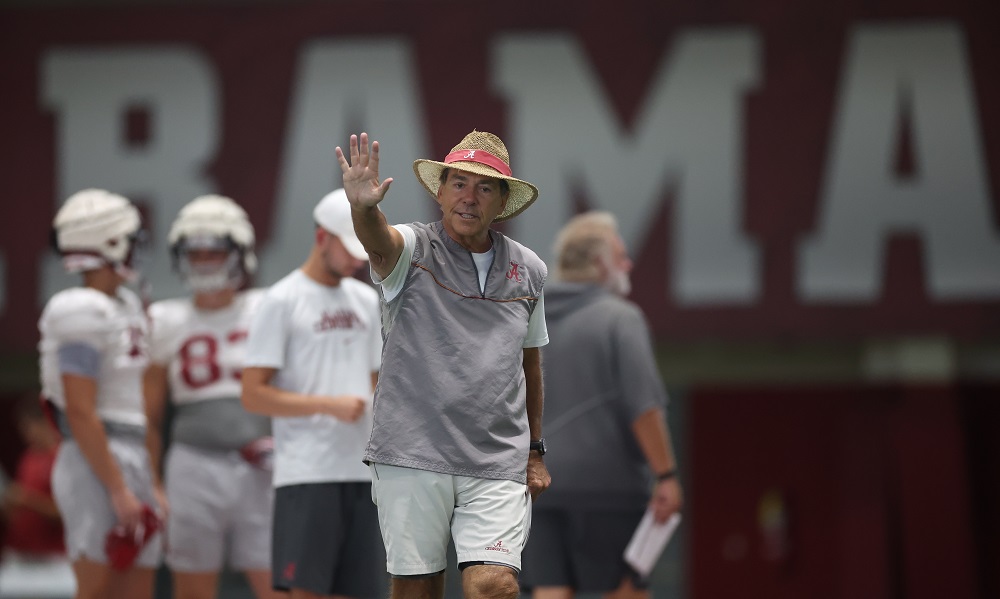 For how dominant he's been during his tenure at Alabama, Nick Saban has allowed his coaching staff to have a good deal of freedom when working with their groups. Unlike some head coaches, Saban doesn't also call the plays or patrol practice monitoring every single position group.
Well, there's only one group that won't escape Saban's sight.
Although he has a position coach for the unit every year, Saban works right alongside his cornerbacks coaches, this year being Travaris Robinson, as it is the one position he allows himself the most input.
He's offered several coaching points over the years and created some of the top prospects at the spot when it comes to the NFL Draft.
But with Saban being so closely tied to the group, he has some mandatory requirements from his players in the secondary.
The one he shared during his weekly radio show was his rule of not allowing the secondary to clap their hands together in frustration after giving up a reception. The main reason is that he doesn't want to allow his players to show the opponent the negative impact.
"I basically tell them all, 'Look, guys. There's nobody that's ever played this position that hasn't gotten beat. Everybody gets beat playing in the secondary. The best guys just get beat the lesser amount.' But the critical factor is how are you going to play the next play?
"You can't get affected by any position in any sport by what happened on the last play. You can't do anything about the last play. All you can do is learn what you did wrong and try to do it better on the next play. But getting frustrated about it — like I won't let our guys hand clap.
"A guy messes up and goes like that (claps). Like 'Oh man, I messed up.' You're telling the other team you messed up. How's that helping you play better? Our DBs cannot hand clap. If you wanna get your butt chewed out, that's good way to do it is to hand clap like, 'I messed up.'
"So how's that helping you play better? But the No. 1 thing defensive backs have gotta be able to do is they've gotta have resiliency so they can play the next play."
*Get the BEST Alabama football insider information, message board access, and recruiting coverage today! SIGN UP HERE to unlock our subscriber only content!*