Recruiting
Quinnen Williams Forceful in Win Over Parker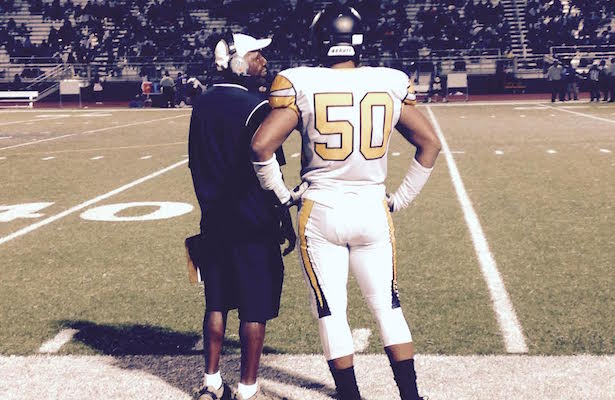 In a matchup of 5A, Region 5 Birmingham rivals, it was Alabama commit Quinnen Williams and the Wenonah Dragons that came away with a 27-20 win over the Parker Thundering Herd on Thursday night.
After going three-and-out on offense and giving up a long pass play for a touchdown to fall to a 7-0 deficit less than three minutes into the game, the Dragons scored on their next possession and dominated the rest of the first half, going into the halftime break with a 21-7 lead. From his defensive tackle position, Quinnen finished the opening half with four tackles, including two sacks that added up to 19 yards lost for Parker.
"The DBs gave our defensive line enough time to get the sacks," said Williams, "so I really thank all my DBs and my linebackers. I really thank all the defensive backs, the people that do the hard jobs. They help me to get the sacks. If the wide receiver is already covered, the quarterback has to take [the] time to look around and if he takes a long time, it allows me to get to him."
The Thundering Herd scored on two of its' first three possessions in the second half but after a botched snap on what would have been the game-tying extra point, Wenonah turned up the intensity and did not allow Parker to score the rest of the way. The Dragons achieved the winning margin after a 14-play, 76-yard drive that took over seven minutes off the clock and showed their refusal to lose.
"We run hard at practice and at the start of that fourth quarter, it just kicked in. We just kept running and while they were tired, I'm in shape, my team's in shape, so everybody is like 'This is the first quarter to us.' We just drug 'em."
Parker had their best starting field position of the fourth quarter at Wenonah's 37 yard line with just over seven minutes to go, but Williams made another 10-yard sack on first down to put the Thundering Herd in a deep hole and they never recovered. He finished with five tackles with three sacks in addition to a pancake on offense.
"I really try to be a visual leader. I don't want to be a leader such as you've got to tell somebody what to do and tell everybody what to do. I want to be a leader that if they see me busting my butt, they're going to bust their butt for me. I really want to go out there and show them my hard work so [that] they're going to be like 'Quinnen's working hard and I want to get to where he [is], so I'm going to work by butt off.'"
Quinnen plays on almost every down for the Dragons and when asked about how he never seems to take a play off, he said: "My team keeps my motor like that. If they see me slacking, they're going to slack. If I go give it all I can, they're going to die on the line for me."
The four-star defensive tackle says he plans to visit Alabama for the game against Middle Tennessee State and when asked about his thoughts on the Alabama-Wisconsin game, Williams said: "I'm sure Alabama's going to pull it out because their defense is so staggered and they're in love with their techniques."
Derek J. Hooper is a Recruiting Analyst for Touchdown Alabama. You can follow him on Twitter @derekjhooper.