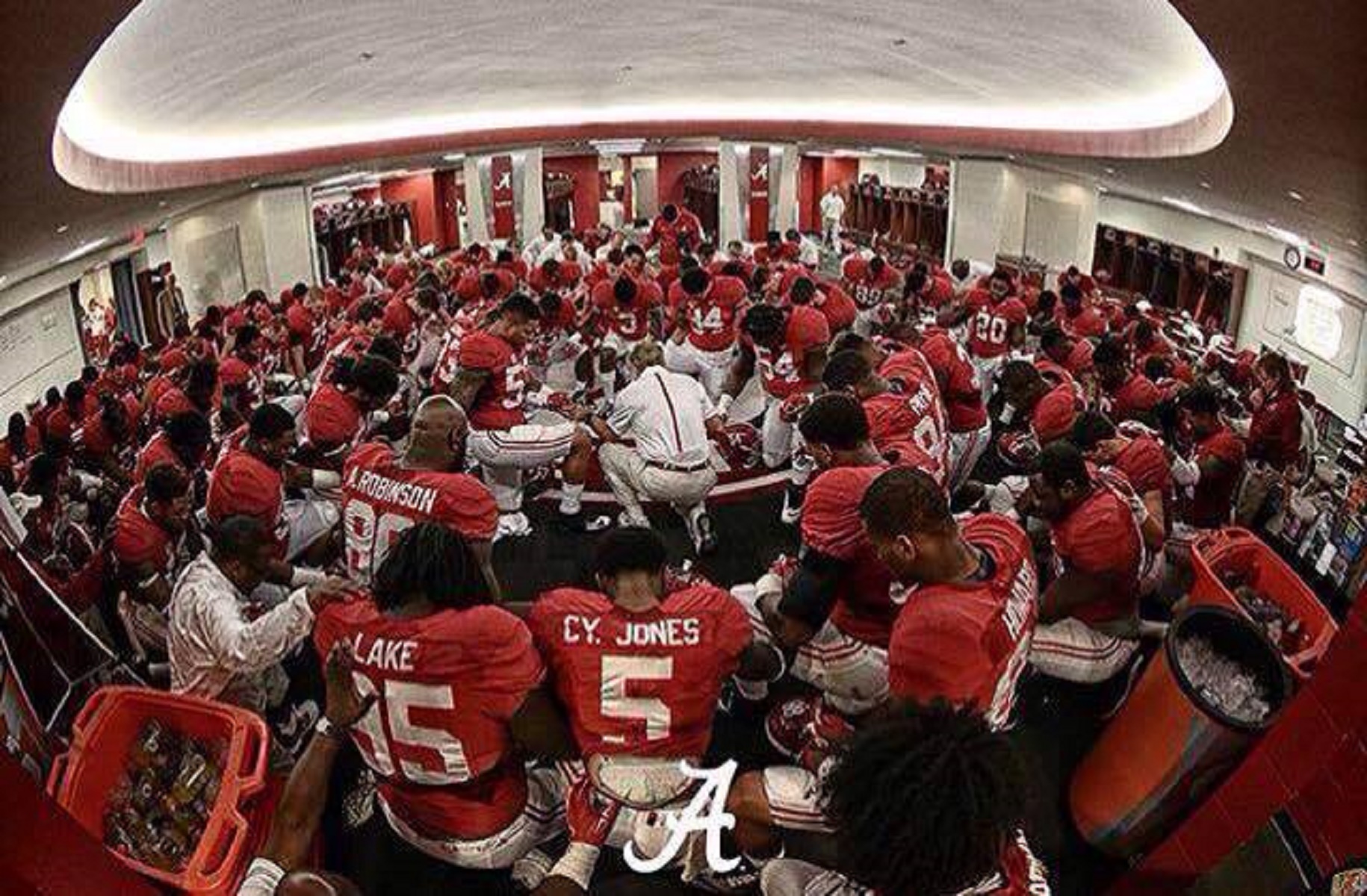 Things Fans Should Know About This Alabama Team
By: Larry Burton
While it may not come as news to everyone, there are some things that fans or for that matter, people who aren't fans, should know about this Crimson Tide team. In no particular order, here they are. And even if you already knew all this, it's great just to see it in print.
This group is reverent: When a team prayer is said, you can hear a pin drop, every head is bowed, players follow the prayer with a look to a person near them and a pat or hug or some kind of touch that lets them know they're brothers in all things, even in faith and they talk about it publicly. It's cool on this team to love and praise God and include him in the credit for the way things are going in their personal lives and accomplishments. They sometimes pray in the morning, always in the locker room and are unashamed to pray on the field during and after the games.
This team is united: There is no division on this team of starter or non starter, black or white, senior or freshman, popular or unpopular, they are a band of men wrapped tightly into all things Crimson. Few players ever remember a time with so much love and brotherhood on this team. There aren't "cliques" on this team, no offense vs defense and no finger is ever pointed if things do go badly for a play or series. Just a quick, "Don't sweat it, I got your back."
This team believes in one another: Though it's always taught to do your job, focus on what you're supposed to do and let the rest play out, there seems to always be times where men look to see if that's happening and who may need help. Quarterbacks worry about coverage and miss seeing their second or third read. Not on this team. "I have faith in my line, I don't worry about protection, it will be there, I just have to focus on my job." Jacob Coker said about his line in a post game interview to the press. "If we put one man out there on an island, we don't worry, he'll shut that receiver down. I just have to focus on my job, my man's going to do his." Geno Smith said in yet another post game interview. And that feeling goes for every single player, even down to the third string. Maurice Smith doesn't get much playing time on defense as a defensive back, but he has the faith of every man, not just to make big special team plays, but to be ready to come in take his place in any spot in the defensive backfield if necessary. About him, Geno Smith also said, "Maurice is very versatile, going to play corner, star [nickel back], safety, really all positions. So if a guy goes down, you can trust Mo because he knows pretty much what to do at every position."  The next man up has never been more heartfelt at Alabama than it is now and maybe never before has there been so little talent difference between all the third string and the first string.
This team has leaders on the field: This was something Saban has noted was lacking from last year's team when they needed it the most in the Ohio State game in the first College Football Playoff Championship. They had leaders last year, but they just didn't know how to lead correctly and how to vocalize or demonstrate that leadership. This year they do and it makes a huge difference. And they lead not just by example, but vocally too, which is what the coaches have wanted.
These boys are focus on doing ALL the right things: Of course they're focused on football, but this is the largest class of graduates that have ever been on the field at one time. They've focused on school work, they've focused on physical conditioning, they've focused on doing the right things when they're out at night and they're accountable to one another for their actions and watch over one another maybe a little more than ever before.
This team loves each other: There is a deep emotional love for one another on this team. You can see it when a backup makes a great play and is mobbed on the sidelines by his buddies. You can see it how big men unashamedly hug and embrace one another, pray for each other and refuse to have those ties broken. It is reflected in team's wish to dedicate this playoff season to a fallen brother that was no longer a member of the team, but had spent two years with them and gone afoul of walking the straight and narrow. That player was Altee Tenpenny who left this season and went afoul of not one but two team's rules and was in a sea of pain and uncertainty at the time of his death in an automobile accident. Though not a team member, he was a brother, someone who always had a big smile and had sweated through two years of wars with them and that love over rode the fact that he did some bad things and was no longer a member of the team. He was a member of the brotherhood they'd formed with one another and every player wears a "28" sticker on their helmet to remember him. This team is not afraid to use the word love or show the love publicly.
Team first: Think Derrick Henry was unhappy getting so few touches against Michigan State knowing so many NFL scouts were watching? Do you think backups were unhappy not getting many plays in a game that was well in hand? Not just no, but hell no! In the past Alabama has had teams in position to win it all at then end of the year, but key players were distracted by NFL futures, lining up agents, worrying about not getting hurt before the combines or so many other things. As a reporter at the age of 58, older than most of the young men I see around me in this profession, I can tell you honestly I've never experienced an Alabama team so focused on the needs of team over their own needs or wants. This is the most unselfish group of young men I've ever seen. What's best the team overrides any man's personal dreams or ambition.
Therefore and in conclusion, I'd like to say that I feel sort of sorry for Clemson and especially for Dabo Swinney, a team and coach that I could and would want to pull for against any other team. They are simply playing the wrong team at the wrong time in that team's lifespan. Clemson is running into as solid wall as I've ever seen. If there's a chink in that Crimson Armor, I haven't seen it in the past several weeks. This is an Alabama team that is peaked mentally, physically and emotionally at the perfect time. I don't expect that to translate into anything but an Alabama win and a perfect finish for an almost perfect team of great young men.
Larry has been published in almost every media outlet for college sports and now primarily writes here for Touchdown Alabama. Follow Larry on Twitter for inside thoughts and game time comments at https://twitter.com/LBSportswriter
THANKS FOR SHARING THE LINK TO THIS STORY ON YOUR FACEBOOK PAGE