Larry's Lowdown
Smart Auburn Fans Now Realizing Things Are Worse Than it Seemed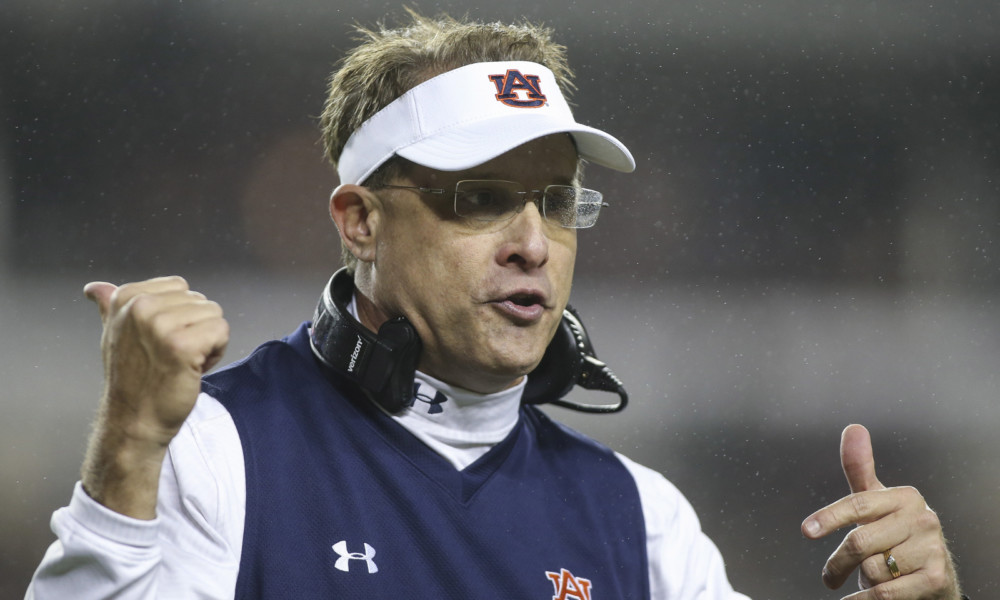 Smart Auburn Fans Now Realizing Things Are Worse Than it Seemed
By: Larry Burton
It's not that Auburn was in the Birmingham Bowl, but that they almost didn't even make the Birmingham Bowl. It's not that Auburn finished dead last in the SEC West, it's that they may have to get used to that. It's not even the fact that Auburn was picked to finish first and ended up last in the West, it's that no one is picking them to finish much higher than last for next year.
It's not that this year's present sucked so loudly and so clearly, it's that it appears to be a trend that everyone sees enduring into the future.
Of course Muschamp couldn't wait to get out of Auburn, he was offered a head coaching gig. Who wouldn't have left? But what he's said since leaving shows Auburn a program with tons of problems that all begin with Gus Malzahn. South Carolina recruiting targets that also consider Auburn have been told that program is a train wreck. That was a huge sign that things aren't going uphill any time soon.
The second big signal that smart fans caught on to was in trying to fill the Muschamp vacancy. With tons of cash to pay, not one of the top names would even consider coming to the plains. These are smart men who know football and see a train wreck for what it is. They see Malzahn as a coach on a downhill slide and soon on the way out. Plus, he's just not liked among other coaches. It was downright embarrassing for Auburn administrators to not even have calls returned from some of the people they would have loved to have landed.
They wanted Bob Shoop from Penn State and could have made him the highest paid defensive coordinator in football, but he was one who wouldn't even discuss it. Instead he went to Tennessee for less money than Auburn was will to toss at him. Smart Auburn fans still thinking Auburn could turn things around are now realizing that no one of note wants to be at Auburn right now. Not even to use it as a spring board for a new job as Muschamp did. That made the light come on for the ones who didn't see it earlier.
Instead, they ended up with Kevin Steele a coach no one else was making offers to. Steele had served as LSU's defensive coordinator and was on the chopping block there as Miles has to reform his team, win or be booted.  For the Auburn fans who thought Steele was a good hire, ask why no one else was asking for his services. Those that said Saban hired him twice, so he must be good, perhaps didn't realize that after one season as Alabama's defensive coordinator, he was demoted to a title and linebacker coach before he left just one year later for Clemson. At Clemson, his defense posted some of the worst stats ever and he was fired. He was hired a second time by Saban for a non coaching position and to help with recruiting, which he was the one thing he was very good at.
And Auburn could have kept one of their own on staff, Travaris Robinson, a former player and coach that has worked under Muschamp at different schools and had the makings of being a good defensive coordinator. It made more sense than Steele. But being a former Auburn player wasn't enough to even keep Robinson, who likewise couldn't wait to get out of Auburn, taking a job again with Muschamp in South Carolina. Robinson will be the new Gamecock defensive coordinator there. He will be replaced by a coach from the NFL, New Orleans Saints secondary coach Wesley McGriff will come over and also serve as co-defensive coordinator under Kevin Steele. McGriff seems to a solid hire and has a solid pedigree for this position. Auburn fans can only hope that he is being groomed to be the future coordinator.
Auburn's linebacker coach, Lance Thompson, a good recruiter, also leaves Auburn to go to South Carolina. He was replaced by a rookie coach, Travis Williams, a former Auburn player and NFL veteran player who has never been a position coach before. He had spent the past two seasons as a defensive analyst for the Tigers. So as a coach, Malzahn is taking a risk.
The other key problems for the Tigers, erratic quarterback play and dazzling "Gee Whiz" playmakers still don't seem to be ready to take the field and the defensive woes don't seem to be any closer to being fixed either. Auburn's keys to winning with Malzahn's offense relies on having a Heisman caliber quarterback pulling the trigger and a defense that can stay on the field for long periods and not wilt. There is no quarterback like that in sight and current quarterbacks on campus just haven't shown the ability to turn the corner. In total offense, Auburn finished dead last in the SEC West in total offense, total passing and scoring.
Last season, even with Muschamp, one of the better defensive minds in college football running the show, Auburn finished tied for the nation's 71st best defensive unit. With Steele running the show, why would you expect better? They weren't even in the top 50% of all 128 teams and next to last in the entire SEC in total defense.
Train wreck does seem to sum up Auburn's problems. Terrible offense, terrible defense, questionable coaching hires and all run by a head coach that isn't very endearing to his fellow coaches or very inspiring to his players.
Alabama went through a long period of dark years before Saban and now it appears that Auburn is headed down that path. The question now is will Malzahn be the next in a long line of Auburn coaches who makes millions from sitting on his couch after being fired? His contract goes through 2020 and no one thinks Auburn fans or the administration will take another four more years of this kind of play and folks just don't see anything at Auburn to turn things around dramatically enough to make Auburn a winner again.
So the problem isn't that Auburn is bad, the problem is they may continue to be bad for some time. That fact is something that fans are just are just now realizing. The other problem is their failure to go out and seek a top name to run their program who is a proven winner and someone who could be a long term solution and not a one trick pony, something that Malzahn seems to have been.
Larry has been published in almost every media outlet for college sports and now primarily writes here for Touchdown Alabama. Follow Larry on Twitter for inside thoughts and game time comments at https://twitter.com/LBSportswriter
Thanks for Sharing This Link on Your Home Page of Facebook!