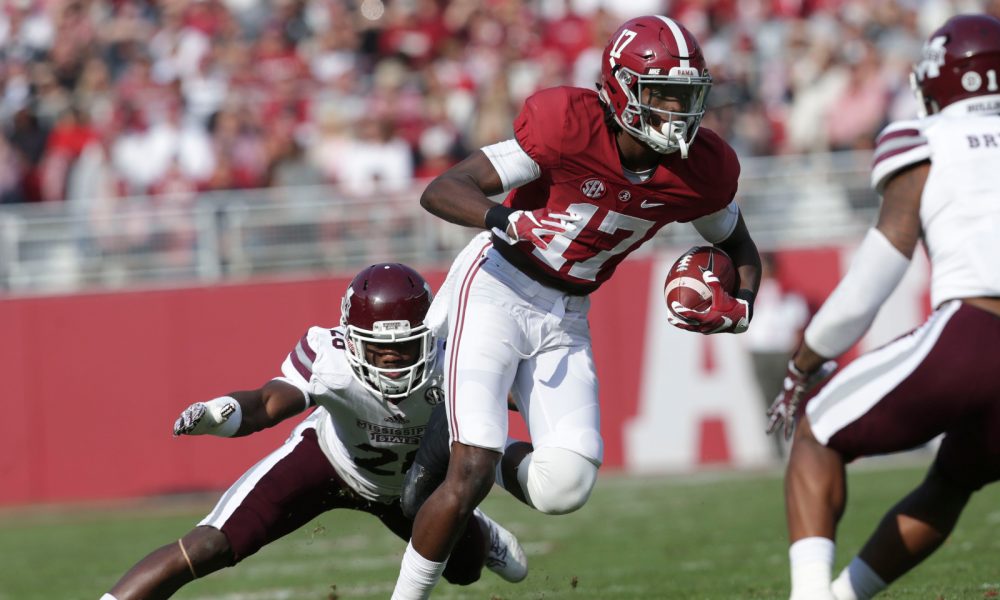 Two football players enrolled at the University of Alabama in 2014, carrying the same first name. While one became an impact starter during a three-year tenure with the Crimson Tide (Cam Robinson), the other looks to claim stardom this fall. 
Before arriving in Tuscaloosa, Cam Sims was a marquee wide receiver and a human highlight reel at Ouachita Parish High School in Monroe, La. A consensus four-star recruit, he garnered attention at No. 49 on the ESPN 300 and the eighth-best target according to its recruiting site. After grabbing seven passes for 62 yards and a touchdown in 2014, injuries to his knee and shoulder limited Sims in the last two seasons. Despite not being 100 percent in 2016, the 6'5″ specimen toughed it out – recording 14 receptions for 152 receiving yards through 13 games.
All the hype surrounding Calvin Ridley, Robert Foster and Jerry Jeudy is needed (due to their athletic abilities and Ridley's experience), but a healthy Sims adds a new dynamic to the Tide. He's improved both his speed and route running capabilities, but per sources, Sims has spent the offseason becoming a more reliable, vertical weapon.
"Cam has put so much focus on his hands," sources said. "He has a chance to be a very good third down receiver for Alabama on offense. He finds ways to gain yards after contact."
In drawing from personal memory, I recall a practice where Sims ran a deep fade route to the corner of the end zone and elevated over the top of safety Landon Collins, to record a score. His athleticism may remind some of Julio Jones or a bigger version of Amari Cooper; however, another name comes to mind when comparing the prowess of Sims.
"Cam reminds this team of Kevin Norwood," sources said. "Kevin wasn't a superstar name, but he just made the catches at the right time. With Cam's body, I think he's going to be very useful in those third down situations. He's just a physical dude."
Ridley, Foster and Sims can all serve as deep ball threat, but what makes Sims fit more so into that role is the Tide not having a rangy target since Jones (2008-10). Obviously, redshirt junior Derek Kief (6-foot-4) is on the roster but he's struggling to advance ahead of the second-tier.
"One of the things that has helped Cam is Michael Locksley," sources said.
"Locksley teaches all receivers to use your strengths to get open. If your thing is speed or physicality, then use it. If you possess neither of the two, then he demands you to outsmart the defender. Locksley really gives you all the details on how to create opportunities for big plays."
With the fall practice schedule released and the first open practice set for Aug. 5., there will be multiple angles to catch Sims at work. The senior has one year to turn in productive numbers and earn a solid NFL Draft grade.
For Sims, the time is now to seize the moment.
Stephen M. Smith is a managing editor and senior writer for Touchdown Alabama Magazine.  You can "like" him on Facebook or "follow" him on Twitter, via @Smsmith_TDALMag.