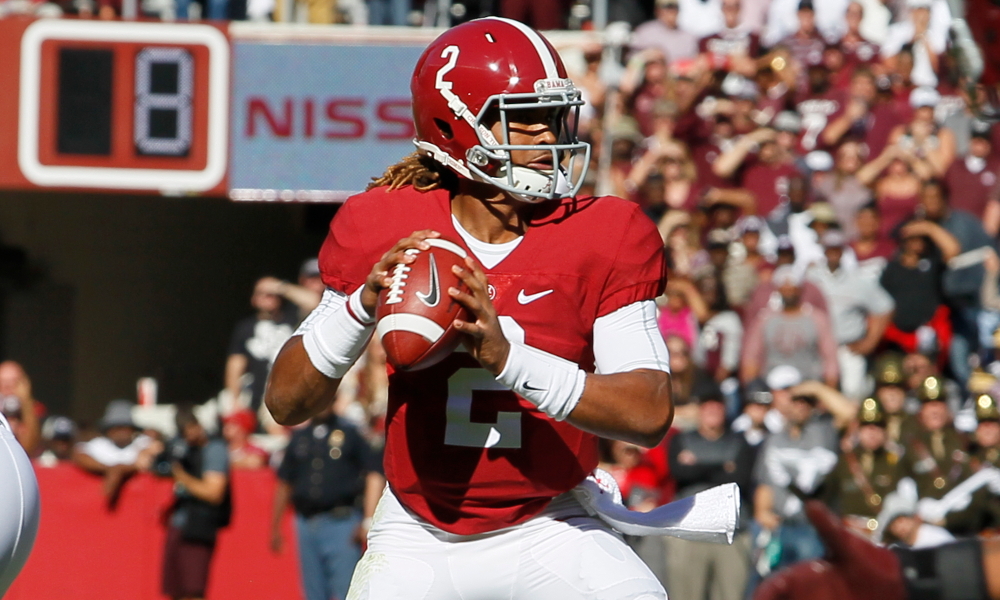 The media circus encompassing last year's quarterback competition between Jalen Hurts, Blake Barnett, and Cooper Bateman is stirring the pot again this year. At every major media event this offseason, Alabama Football head coach, Nick Saban, has been asked about a quarterback battle. This, in spite of returning the SEC's Player of the Year from a season ago, in Jalen Hurts.
He appeared on First Take during his visit to the ESPN Studios this morning, and was again asked about Jalen and whether or not the Hawaiian standout, Tua Tagovailoa, was pushing him for the starting job.
"First of all, Tua is a very, very good player and we are glad to have him in our program. He is a guy that needs to play some," Saban started. "But, look, I'm not creating a quarterback controversy here because Jalen Hurts is our starting quarterback. He was the SEC Offensive Player of the Year for us last year."
Despite a highly respectable year in which he threw for 2,780 yards, 23 touchdowns and 9 interceptions, Hurts has been labeled as a 'run-only' quarterback. He was a phenomenally effective runner last season with the ball in his hands as he was second on the team in rushing with 954 yards and 13 additional scores on the ground. According to Saban, that has been a large focus for Jalen and the coaching staff this offseason, and he blames himself for not allowing Jalen to grow more as a passer last year.
"[Lack of passing consistency] was not by his fault, " Saban said. "We were sort of risk-adversive with him being a freshman last year and in how we developed him and in what we asked him to do. At the end of last season the challenge to him was that this was something we needed to do better, that [he] can do better. I think Brian Daboll has done a really good job creating balance on offense and helping Jalen develop into a more efficient passer."
Brian Daboll was expected to bring back the run first mentality of the past after the Lane Kiffin experiment, but he shocked the world during April's spring games. Jalen and Tua combined for over 600 yards and multiple scores, and at least three different receivers ended the day with over 100 receiving yards. Daboll, who was working as an assistant under Bill Belichick when hired, knows what a great quarterback should look like after working with Tom Brady throughout most of his professional career.
"I think on offense you always do what you have the players to do," he said about the differences in offensive scheme this year. "Our system is flexible enough on offense to feature the players we have. I think we have done what our quarterbacks can do over the last three years, [but] I think we want Jalen to develop into a quarterback that can be multi-faceted in terms of being a great threat as a runner as well as a passer, and I think our offense will reflect that this year."
While we've yet to see this years team take the field yet, these are exciting words to hear for Tide fans. This year's offense has the greatest plethora of weapons in Nick Saban's time in Tuscaloosa, and the expectations are through the roof. If what he said holds true, we could be in store for an explosive season.
Jake Weaver is a lead writer for TD Alabama Magazine and Bama Hoops Hype. You can contact him via phone at 205-612-5060, or on Twitter @JWeaver_TDALMag