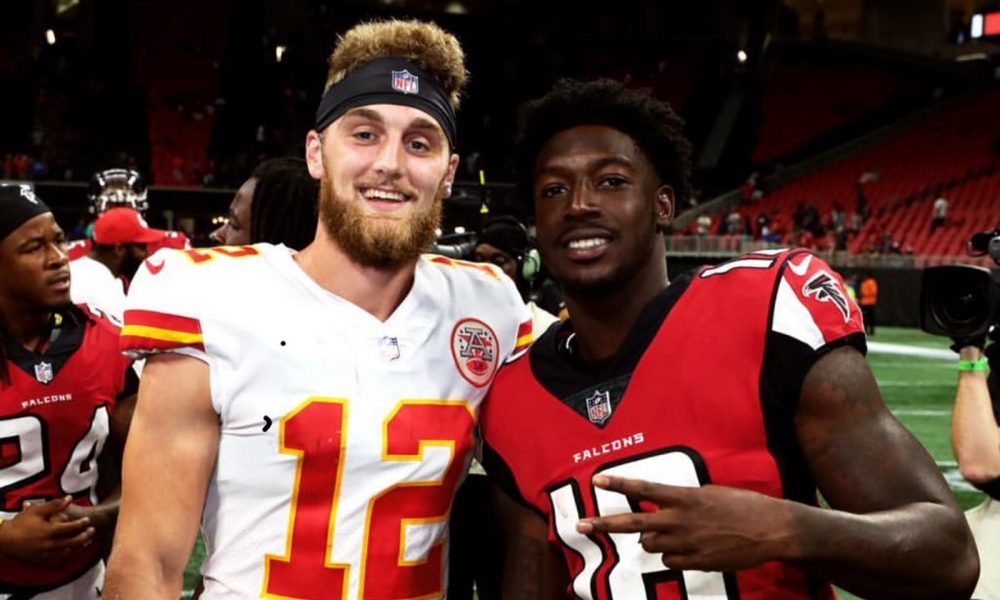 Chiefs 28, Falcons 14 
Calvin Ridley had 1 reception for -2 yards in his first NFL preseason game last week. It was a disappointing start for the rookie who went 26th overall in the 2018 NFL Draft but Friday night against the Kansas City Chiefs, Ridley showed why he has the potential of a superstar. The former Tide receiver finished with 3 receptions for 48 yards and a touchdown. He absolutely beat veteran cornerback David Amerson on a vertical route that went for 36 yards. He also added a 35 yard kickoff return and looked natural in doing so.  Ridley is turning heads in camp and it's showing in games now. His rookie season could be special.  
https://twitter.com/FalconsKingdom/status/1031237267027845120
Julio Jones didn't play for the second week in a row and won't make his debut until the season opener. Jones is being held out for precautionary reasons.  
J.C. Hassenauer played for the Falcons and participated with the reserve units. He's squarely in the mix for the backup center job behind veteran Alex Mack.
Chiefs receiver Gehrig Dieter had 2 receptions for 36 yards, including a 27-yard touchdown. That performance improves his chances of making the team or a practice squad at the very least. 
Packers 51, Steelers 34 
Safety Ha Ha Clinton-Dix started for Green Bay and had 2 tackles.
Steelers defensive tackle Josh Frazier didn't record any statistics against Green Bay.  
Giants 30, Lions 17 
Giants safety Landon Collins started and recorded one tackle. He played sparingly to for precautionary purposes. Collins has become one the NFL's premiere safeties.  
Dalvin Tomlinson started at nose tackle and didn't record any statistics. He played 13 snaps for precautionary purposes. Tomlinson is coming of a strong rookie season, where he was named to the 2017 Pro Football Writers Association all-rookie team.
A'Shawn Robinson and Da'Shawn Hand played for Detroit, each recorded a tackle.  
Bills 19, Browns 17 
AJ McCarron started and was injured, leaving the game with a broken collarbone.  McCarron played four series and completed 3 of 6 passes for 12 yards. The offense only gained 22 yards when he was behind center. McCarron is expected to miss several weeks with the injury. 
Robert Foster didn't record any stats or targets. His chances to make the Bills roster are diminishing by the day. 
Levi Wallace recorded two tackles and a pass deflection. He's having a pretty good camp so far according to reports from the Bills organization. 
Panthers 27, Dolphins 20 
Dolphins running back Kenyan Drake had 8 carries for 54 yards and a fumble. He had a long run of 34 yards and showed off his big play ability. It looks as if he's ready to take over the starting role in Miami. 
KK Short blows up this run, but Kenyan Drake reverses field for a huge gain. #NorrisNotes pic.twitter.com/RfjKulgQf5

— Josh Norris (@JoshNorris) August 18, 2018
Minkah Fitzpatrick started at slot corner for the Dolphins and made two tackles. He is always around the ball and will be a future star in the league. His presence makes the Dolphins defense better and the secondary more flexible.
Cardinals 20, Saints 15 
Mark Ingram had 7 rushes for 36 yards for New Orleans. His preseason has been strong so far, it's unfortunate we're forced to wait until week five of the regular season to see his impact. Ingram will miss the first four games due to suspension. 
Arizona offensive tackle Andre Smith didn't play again but is expected to be ready by the start of the season. He's expected to start or contribute heavily at right tackle for the Cardinals in 2018.
Jaguars 14, Vikings 10 
T.J. Yeldon had 10 carries for 39 yards, while racking up 5 receptions for 73 yards. He could have a big role in the Jacksonville offense in 2018, especially as a pass receiver.  
Ronnie Harrison had 5 tackles for the Jaguars and a forced fumble. He really got after it Friday night and was all over the field. It's unlikely he'll start but he'll make that case at some point in the season if he keeps turning heads.  
https://twitter.com/ROLLTIDEBAMMA/status/1030876073456795649
Cam Robinson started for Jacksonville and didn't have his best performance. Former LSU defensive end Danielle Hunter had his way with the ex-Tide star constantly getting pressure when matched up against Robinson. Let's hope this was just a bad game and not a continuous pattern. 
Rams 19, Raiders 15 
Mark Barron did not play. He's still recovering from an off-season injury. Barron is expected to start at linebacker for the Rams when the season opens.
Raiders star receiver Amari Cooper didn't play for precautionary reasons. He will be available for the season opener.  
Bengals 21, Cowboys 15 
Bengals cornerback Dre' Kirkpatrick had 3 tackles and a pass deflection. He had a strong game and looks ready to prove doubters wrong this season. Hopefully he can keep this level of consistency going forward. 
Cowboys running back Bo Scarborough left the game in the third quarter with a hip injury. He finished with 4 carries for –2 yards. It's unknown how serious the injury is but missing practice time doesn't help a 7th round rookie trying to make the 53-man roster.  
Buccaneers 30, Titans 14 
O.J. Howard played with the starters and had 2 receptions for 30 yards with a long of 20. Howard is expected to have a key role in the Buccaneers passing game in 2018. All training camp he's dominated, and the Bucs organization must feel good about his progression. 
Rashaan Evans did not play for the Titans. Head coach Mike Vrabel has yet to specify what his injury or issue is but hopefully it's minor and he'll be ready for the season opener.  
Derrick Henry played in limited action and had 3 carries for 7 yards. He will start for the Titans in 2018 and they are expecting him to be their bell cow runner.  
Texans 16, 49ers 13 
49ers linebacker Reuben Foster had 5 tackles and a pass deflection. He'll miss the first two games of the regular season for violating the NFL personal conduct policy. His immense talent showed last night, and Foster should emerge as one of the top young players at his position in 2018.  
Julian Taylor continues to impress #77 up top.. too strong for a TE.. this clip wasn't about Rueben Foster but damn dudes a missile pic.twitter.com/flDvv5hdCi

— Big CROCKY⚡️ (@eric_crocker) August 19, 2018
DeAndrew White was waived by the Texans earlier in the week but was picked up by the Denver Broncos just days later. Hopefully he can find a way to stick with that organization.  
Bears 24, Broncos 23 
Eddie Jackson started for Chicago and had 1 tackle. He should be an important member of a "new look" Chicago Bears squad under new head coach Matt Nagy. 
Cyrus Kouandjio played 41 snaps, which was the second most on offense for Denver. It is becoming clearer that his role could expand in 2018 for a team that isn't particularly strong on the offensive front. It wouldn't be surprising to see Kouandjio start at some point in the season for Denver.
 Chargers 24, Seahawks 14 
Jarran Reed started for Seattle and registered 2 tackles. The third-year defensive tackle out of Alabama is expected to have a huge year for the Seattle. When asked by The Seattle Times, defensive coordinator Ken Norton said of Reed "He's the heartbeat and mainstay in the middle that we all depend on."  That's high praise and it looks like Reed is emerging as a leader on a defense that desperately needs it.
Chargers defensive back Tony Brown played a lot in the second half and recorded two tackles. He's on the "bubble" to make the roster. 
Damon Square played at nose tackle for the Chargers and didn't record any stats. 
DJ Fluker started for Seattle and left the game with a minor finger injury. It's worth noting, that when he left the game the right side of Seattle's offensive line looked awful.  
We'll keep you updated on Alabama in the pro's preseason action as it unfolds.