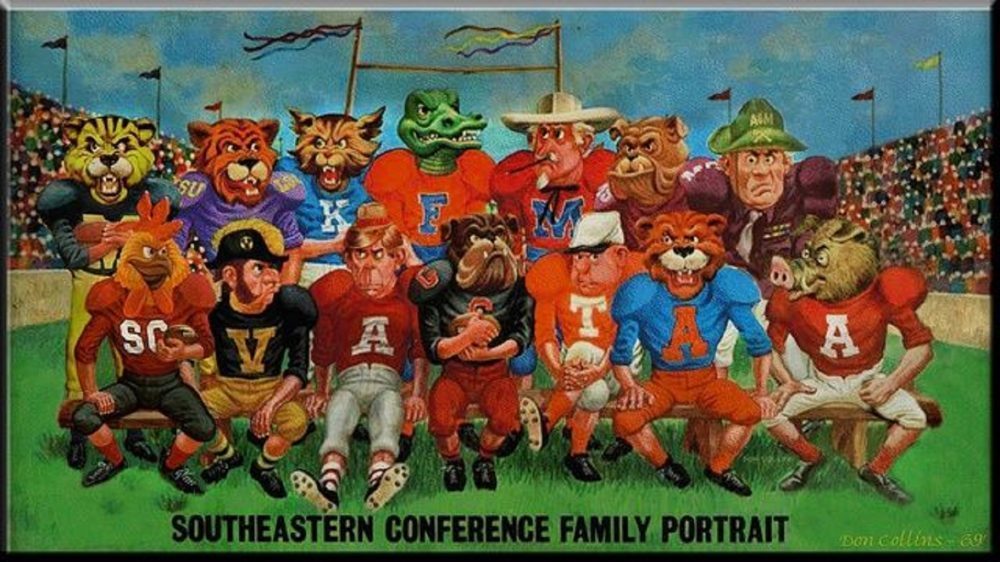 Only six contests this week for the SEC as many teams take a bye week, but there's still some interesting football to forecast. See if you agree with these.
Well folks, it's slim pickings this week as there are only six contests on the slate. Only Florida has a cupcake contest as we expect the Huskies to give Vandy a run for their money. Some teams are taking their first bye week and that's OK with us as we are spending some time off in lovely Fort Lauderdale visiting family and relaxing myself, but I don't plan on taking a bye week in calculating contests correctly, so take a look at our list and see if it has you happy or howling.
Last week we went 6-3 after Ole Miss was screwed out of a touchdown on a bad call late in the game, Arkansas, well they played like Arkansas and Texas A&M showed why they'll always be mired in mediocrity. This is the worst week of picking in many a year, so there's nowhere to go but up for this week. Now like I said, this is a short slate of stadium fights this week, but that don't mean they're going to be easy to pick, so see if your noggin comes up with the same list of likely losers as we did.
Texas A&M at Arkansas – Now the Farm Boys from down the dusty trail in Texas come to check the Pig pen in Arkansas and see if it's ripe for raiding, cuz these boys would like to bank the freezer with some Pork for the coming winter.
But these pigs have had a taste of winning once this season and they're hoping to catch these Aggies reading just how how pitiful these little Piggies are and not preparing properly for this Pork party. The home field, the visiting field, any field don't seem to help these Hogs haul off a victory, so I don't see a bright future for them this week.
This game might have it's moments, but when the final whistle blows, they'll be packing pork in freezers for the trip back to Texas. Larry's loser – Arkansas
I don't want to say that A&M is taking this game lightly, but this was the only page on their game plan.
Northern Illinois at Vanderbilt – Now when these Huskies sunder into Song City to take a swipe at the Sailors there, they're thinking they have a chance because of the early season struggles these Swabbies have been having, despite the fact that the boys from Vegas see this as slam dunk win for the Commodores.
Personally, this one has me nervous because after all, this is Vanderbilt and not only have they not stopped many offenses yet this season, they don't even seem capable of slowing them down too much.
But we hope that they find a way to close the deal this week and help us in our quest for football perfection by making Larry's loser – Northern Illinois
Ole Miss at Alabama – When whatever mascot they are this year, Rebels, Bears, Landsharks or whatever they are trot over to Tuscaloosa, it won't be the same band of brothers that battered the Bama boys for two years in a row. No, this is a kinder, gentler group from the Grove and they'll soon discover that it's true, an Elephant never forgets.
So Saban's Pachyderm players won't take no surrender and won't give much quarter one the kickoff occurs. And if you think the Rebels were disappointed last week after getting cheating out of tying it up late, wait till they experience this fiasco.
Still, it'll be a more entertaining game than Florida's cupcake clash, so for your mid afternoon consideration, you might as well watch Alabama make Larry's loser Ole Miss
Towson at Florida – When the Towson Tigers travel down to Gainesville to grapple with the Gators, we don't know if it's because Florida needed a rest from tangling with Tennessee or wanting to rest up before taking on the real deal Tigers from up Auburn way.
Either way, it might as well be bench day at Ben Hill Stadium because these Gators can gobble up these goober heads with three legs tied tied behind their back. That is their legs are long enough to reach their backs.
So we'll just skip this one and watch the highlights later and there should be quite a few to view. Oh yes, three points to anyone who knew Towson is from Maryland. Larry's loser – Towson
Mississippi State at Auburn – The Moorehead Mutts muddle down to way to Auburn and hope to catch these Kitties still licking their wounds from the close contest in College Station and add yet another bunch of bruises on the bodies of the men from down in the plains way.
Now I'll guarantee you that Auburn's still sore from the scrap the had last week, but their soreness isn't as big as their need to show the world that these Tigers aren't like opossums and they refuse to roll over and play dead no matter how hard they hurt.
So in the end, it'll be the Mississippi Mutts that'll be getting it in the end as they run back to Starkville as soon as they possibly can after this one. Larry's loser – Mississippi State
Kentucky at South Carolina – When Kentucky brings the Cat show over to South Carolina, these prized Pullets won't be impressed and plan on pecking these Pussycats out of their yard as quickly as they can.
Now these Wildcats turned Mildcats have been oh so close to having a more successful season and they're hoping that they'll be another Carolina catastrophe to befall these Egg Layers like they've endured already this season.
Now I'll just tell you that this one is gonna be a good game to gander and that if one team isn't playing their A game, the other will win. I think this one could be decided late, but when it is, it'll be Kentucky as Larry's loser.
Tennessee at Home – Bye week – The boys in Vegas say that Tennessee is so bad that the bye week is a 3.5 point favorite over the Vols this weekend. Boy, talk about no respect.
Well that's it for this week folks. Thanks for keeping up with Larry's Losers each week and seeing if your picks are prettier than mine. Now the games start getting gamier in the weeks to come and the results will either lift of lose the season for some of them.
So shop for your snacks, bring all your buddies to the big screen and get ready to see if this list of likely losers leans to the left or is right and we'll see you back here next week, the good Lord willing.
*Get the BEST Alabama football insider information, message board access, and recruiting coverage today! SIGN UP HERE to unlock our subscriber only content!*
LARRY BURTON HAS BEEN PUBLISHED IN ALMOST EVERY MEDIA OUTLET FOR COLLEGE SPORTS AND NOW PRIMARILY WRITES HERE FOR TOUCHDOWN ALABAMA. HE WRITES IN A COLLOQUIAL AND IRREVERENT STYLE FOR THIS SERIES OF ARTICLES. LARRY'S VIEWS AND SENSE OF HUMOR MAY OFFEND, BUT HE AIMS TO OFFEND EVERYONE EQUALLY. IF HE HASN'T INSULTED YOUR FAVORITE TEAM WITH LARRY'S LOSERS, JUST WAIT. FOLLOW LARRY ON TWITTER FOR INSIDE THOUGHTS AND GAME TIME COMMENTS AT HTTPS://TWITTER.COM/LBSPORTSWRITER