Fantasy Football
The Crimson Fantasy: Amari Cooper Leads The Way Entering Week 3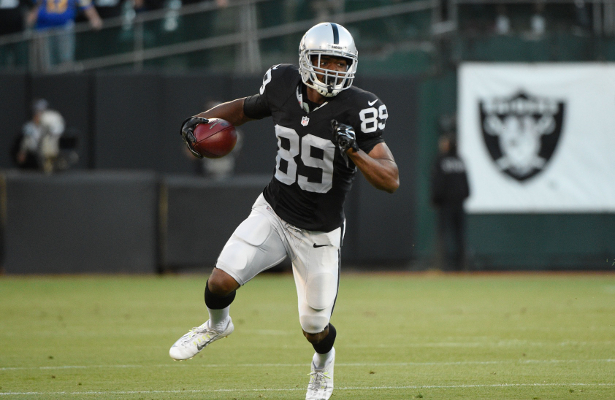 Fantasy football is a funny thing. One week, you're loving every second of it. You get to watch every touchdown on NFL RedZone and have your laptop open to keep track of your players while they all put together performances that you weren't expecting. Just when you fall in love with it, that's when things turn on you real quick.
Sometimes it might be starting a season 0-2 even though you are the league's top scoring team. Sometimes it's because you're 2-0 but your star QB goes down and the only free agent available is Josh McCown. Or, in my case, it's because you needed Andrew Luck to outscore Ryan Fitzpatrick by just three points in Monday night's game to get a win. That seemed like a for sure thing to me. I was out playing some church league softball without any worries. The Jets defense had other ideas though. And on top of it all, I had Dion Lewis, Eric Decker and Matt Jones all sitting on my bench.
The point of all this is to say don't let one week define a season for any of these players. Julio Jones was once again a star for the Falcons but Eddie Lacy got hurt in the first quarter and went without a fantasy point in most leagues. Amari Cooper and T.J. Yeldon bounced back from poor debuts to star in offenses that actually won games in week two. No matter how hard I try, I still have none of them on my fantasy team (although I did get Lacy's handcuff James Starks). Even if I did, I would probably bench them just to have them score 24 points.
Enough about my team though, you're here to read about your favorite former Tide stars so let's get to it, starting with the best performance from week two.
Amari Cooper, depending on what kind of league you are in, was the top scorer of the former Alabama players. He scored his first touchdown of his rookie campaign and helped give the Raiders a big win against the Baltimore Ravens. Cooper finished the day with seven catches for 109 yards and a touchdown on 13 targets. It seems Oakland's offense has things figured out and will look to continue that at Cleveland this week. The Browns only allowed four different receivers get fantasy points last week, only one getting double digits. Eric Decker and Brandon Marshall forced Cleveland to struggle a bit in week one and Cooper will look to feed off Michael Crabtree to do the same thing this week. I think Cooper still gets less targets than Crabtree this week but still makes a difference in the game. Cooper is done with the nerves and could still become one of the league's top receivers this season. I have him getting 12 targets on Sunday, one going for a touchdown. ESPN and Yahoo each have him projected at just 8 points but I think he gets back in the endzone and finishes with 13 this week.
Julio Jones could also have an argument for the top performance if you are in a PPR league. His 13 receptions were the most by any player in week 2. I undersold him last week, only projecting 11 targets from Matt Ryan. Ryan clearly has a go-to guy and that is great news for Julio's fantasy owners. The Falcons travel to play Dallas this week who has allowed the third least points to wide receivers this season. There isn't a big run game for Atlanta to use to set up the passing either so it may be tough for Jones to get in the endzone. However, it hasn't stopped these two from connecting on big plays so far and the Falcons will need Jones to get the ball to have a chance at winning. He fell a half-yard short of a touchdown last week but I think he gets in this week on one of his 18 targets. ESPN and Yahoo both agree at 12 points but I expect big things this week and will project 17 points from Julio Jones.
Mark Ingram didn't live up to my big standards last weekend and even lost two points on a fumble against the Buccaneers. That is just how the whole day seemed to go for the Saints though. Ingram did get in the endzone one time and finished with 9 fantasy points but it could have, and really should have, been much more. He should once again see a big workload this week against a strong Panthers defense but could get some relief with C.J. Spiller back in the fold. Drew Brees may be out and a lot of the offense could go through the running backs but Carolina is not a defense you want to start Mark Ingram against. ESPN and Yahoo both give him 8 points this week but I have Ingram going for just five points and, with the way New Orleans has struggled, a huge loss.
T.J. Yeldon is next on the list, after he helped get the Jaguars their first win of the season. He is still waiting on his first professional touchdown but he is clearly the every-down back for Jacksonville, after getting 25 carries last week against Miami. He has to face the Patriots this week, whose defense may not seem like a big threat but whose offense will likely force the Jaguars to throw early and often. Expect Yeldon to get some of those targets but Allen Robinson may be stealing the touchdowns again this week. I am taking the average of Yahoo's and ESPN's scores and sitting Yeldon at 10 points for week three, his first double-digit performance of the season.
Jalston Fowler actually makes the list right here after getting two touches in the Titans blowout loss to Cleveland. His run went for three yards while his reception went for 19 yards and a first down. Tennessee scored on the very next play and Fowler blamed himself for not scoring on his own catch. It is still too early to give any projection on Fowler's fantasy impact but I say it is only a matter of time before he finds the endzone. It makes one wonder if he can beat Yeldon to it.
Eddie Lacy had a rough weekend against Seattle. Other than getting the win – which is most important to him probably – not much went well for the former Tide running back. Lacy got hurt early in the first quarter after running just nine yards on three carries. His injury may keep him out of the Monday Night Football game against Kansas City but the extra day of rest will be helpful. Lacy is currently listed as questionable and is currently projected for 0 points this weekend by both ESPN and Yahoo. My advice for anyone who has Lacy: bench him and pick up James Starks.
Caleb Turrentine is a contributor at Touchdown Alabama Magazine. Follow him on Twitter, @CalebTurrentine.