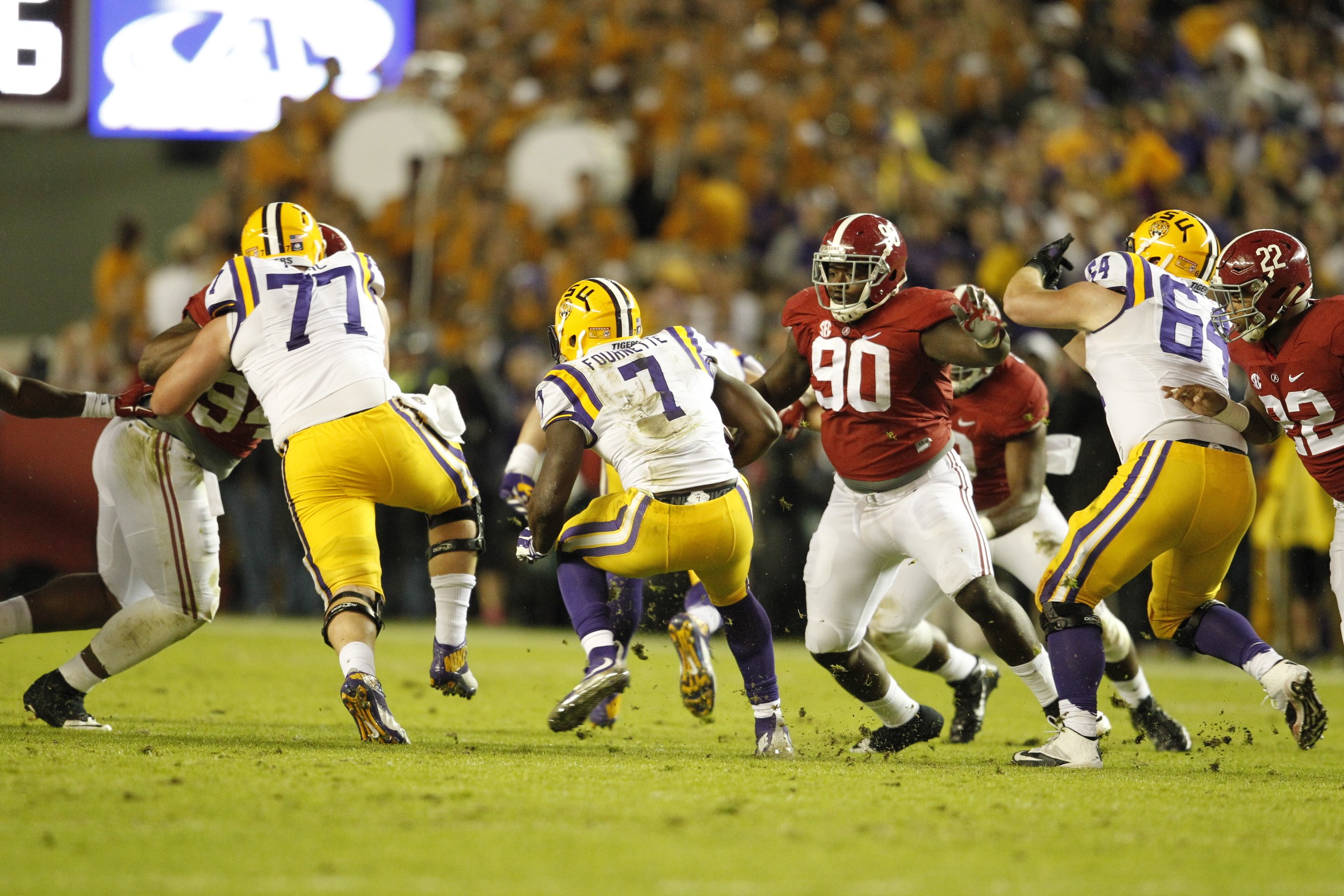 By any empirical measure, the 2015 Alabama defense is among the best defenses in college football over the past twenty years. To borrow a phrase from Star Trek's Borg, "Running is futile." On top of that, a mauling front forces errant passes which an opportunistic secondary is happy to gobble up for a turnover.
One of the most eye-popping realizations that appears when studying game film from the 2015 Tide is their ability to generate pressure organically. In other words, Alabama can rush three or four players and consistently get pressure on an opposing quarterback. Even though Bama rarely blitzes, the defense still paces the country with 51 sacks. That ability creates a unique set of offensive headaches for Clemson heading into the national title game.
Those headaches have everything to do with numbers. By only rushing three or four, Alabama can drop seven or more into coverage on any given down. That doesn't mean that an offensive attack is shut down, but it does tighten windows for a quarterback to complete passes. A small mistake is an incompletion. A big one is an interception in many cases.
It doesn't only affect passing either. It can hurt the running game as well. Clemson quarterback DeShaun Watson is extremely proficient as a runner, and running back Wayne Gallman is easily the best back that nobody talks about in college football. Together, they form a combination that unnerves defensive coordinators the world over. Consider the numbers, though.
With seven or eight guys able to drop back, the Crimson Tide defense has an unparalleled ability to read, react, and swarm to the football. As excellent as Watson and Gallman are, they aren't getting away from all of those defenders attacking from multiple angles. All of this is brought on by organic pressure.
As fans watch the game tonight, take a look at the number of rushers that Alabama is sending after Watson. If it stays static at three or four throughout, the Tide will almost certainly hoist their sixteenth national championship. If the Clemson offense can force Alabama to bring extra bodies to put pressure on Watson, there will be nary a fingernail left in Crimson Tide Nation by 11:59 on January 11th.
Thomas Watts has written for Touchdown Alabama Magazine for years. Catch him on Twitter@ThomasHWatts, on BAMSRadio every Wednesday from 8-10, and 2 Deep Zone hosted by BamaSportsRadio.