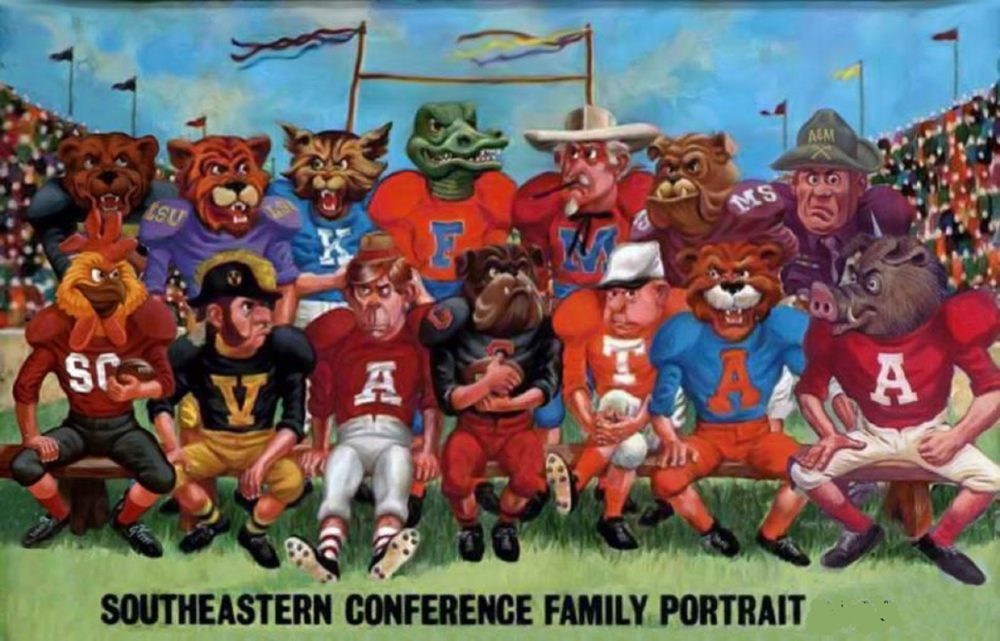 Overall this season, the SEC looks to be a bit better top to bottom, but where does each team stack up? Read and see if you agree with the assessment.
SEC Football – Who's Better -The Same – Or Worse?
By: Larry Burton
You can judge a team by their record. You can judge a team by well they play. You can judge a team by the how hard they compete against better teams. In fact, you can judge a team on any number of rating factors. So here we go mixing in a lot of different factors to give you the all too early look at the SEC and each team in it.
Overall, the SEC is an improving conference. While they have the best out of conference record in the BCS/Playoff era, their have been a lot of down teams across the league. However this year, some teams that have been down will be better teams. While their records may not reflect that increase due to the tougher schedules they may play. But overall you're going to see stronger play from some of the weak sisters in the league and there won't be falloff with the best teams.
Now let's go team by team within each division and see if you agree with the assessments made.
SEC East – Projected Losers to Top Team
Vanderbilt – The usual bottom dweller made themselves bowl eligible last season. They relied on QB Kyle Shurmur to win track meets and most of the time, he could do that or at least put a bunch of points on the board.
With him moving on to the NFL, they won't win those track meets. Mason is a good coach and the team will play fundamentally good football, they will still be a good team but the record won't show it because they won't put as many points on the board. Ke'Shawn Vaughn, their good running back will have to carry a lot more this season. His 1200+ year must be at least duplicated to help them have a chance.
Overall, Vanderbilt will be a team on the downward slide this season and won't go bowling but they'll do OK out of conference.
Kentucky – Last season was one magical ride for the usually also ran Wildcats. They had some talk of being a real contender, but then things went a little South losing an overtime game to Texas A&M, taking the expected loss to Georgia and then the unexpected loss to Tennessee. Still 10 win seasons don't come along every year at Kentucky, so you celebrate them when they do.
They won't celebrate as much this year and the Wildcats may struggle to become bowl eligible after losing some key pieces of the puzzle that made them so successful last season like the wonderful running back Benny Snell and Josh Allen who racked up 17 sacks on defense. There's still some talent there, but Kentucky won't be sneaking up on anyone and ambushing them like last season as teams will know what to expect from the players that are left.
While a bowl team is a good thing at Kentucky, they're still going to be a worse team this year than last year.
Tennessee – Last season Tennessee brought up the tail end of the SEC East with a 2-6 conference record and 5-7 overall. Coach Jeremy Pruitt took over a train wreck that's existed since the Vol powers that be fired Phillip Fulmer. It's been a problem for 10 years and it wasn't going to fixed overnight.
Tennessee has a damaged psyche, they don't feel like winners, therefore they haven't played like winners, don't practice like winners and just don't have that swag in their walk so far. But Pruitt's no nonsense  approach is beginning to make some inroads. They are close to being back to being a contender, but recruiting hasn't been the super strong and they just can't pull out the close games with any kind of repetition.
BYU is their second game and the BYU name still has enough panache to get excited about winning against them. That may be the spark they need to go against Florida with some spring in their step for game four. If they manage to pull off the upset against the Gators they are going to be an electric team the rest of the season. Even putting up a worthy fight could help them.
They won't stumble against Vanderbilt this season and will end up doing better in the SEC overall and they will make a bowl game this season, so overall, Tennessee will be an improving team.
South Carolina – After starting to look good with Muschamp in 2017 after winning 9 games, lots of folks thought the Gamecocks were going to be a team to contend last season. Instead, they slipped to a seven win team and looked out of sorts at times.
Granted they had a very brutal schedule last year and this season the schedule is only a tiny bit more in their favor. They still have to play Alabama, Clemson, Texas A&M, Georgia and Florida and they won't be picked to win any of those five games.
Still, with QB Jake Bentley and all their running backs returning, they should be in the mix for the rest. So count on South Carolina to struggle to make to bowl season, but make it by the skin of their teeth. This means they are about the same as last season.
Missouri – Missouri is a team that's hard to predict. They lose games they shouldn't and win games they shouldn't, but they are scrappy in most of them and any team that plays them better be ready for their best punch. Last season they went 8-5 and are hoping for a little more. With Kelley Bryant transferring in from Clemson, they may just just do that.
A favorable schedule with cross division West foes like Arkansas and Ole Miss may make making a bowl easy work. Along with incoming QB Kelley to keep things going, the Tigers also get back their top running backs and some good linemen. Scoring points won't be a problem this season.
Even if their final record isn't better than last year's 8-5 mark, they're going to be a better team that can create more problems for teams than they were last year. Look for a 9-4 mark.
Florida – Sooner or later, you just know that Dan Mullen is going to get his stuff together, pull in the right recruits and turn the Gators back into a team that all teams dread to face. Last year's 10 win total looked good, but for Gator fans, the fact that they got thumped hard by Kentucky, Georgia and Missouri sort of took the feel good out of season until they simply drove a spike through the heart of a highly talked about and over rated Michigan team in the bowl season and got their swag back.
Mullens still looks to have a QB he didn't recruit, Feleipe Franks that will be calling the signals, but he's been working with him hard and this could be the season he finally breaks out. No one has poo poo'd Franks arm strength or ability, just his decision making and if he masters that, the Gators could be a team to cause some problems with others in the SEC. They return a great group of running backs and receivers and a very nasty defense that could be among the conferences best.
They I wouldn't place heavy money on it, it wouldn't surprise too much to see the Gators topple Georgia for the top spot in the East. With a break or two, it wouldn't be far fetched at all. You may tire of hearing it, but even if they finish with just 10 wins like last season, they'll be a better team than last years and they're getting that nod.
Georgia – Last season they finished 11-3 and for most of the season looked like one of the best teams in the nation, yes even after that inexplicably hard to understand loss against LSU midway in the season 36-16. They gave Alabama all they could handle in the SEC Championship for their second loss and then lost to a Texas team in the bowl season that they shouldn't have.
With Jake Fromm returning along with their most prolific running back and a great core group of receivers, the Bulldogs shouldn't have trouble putting points up on the board. The question for 2019 is can they stop other teams from making the game a track meet and with the talent they have on that side of the ball, other teams won't be able to keep up.
The only question of Dogs improving is how well new offensive coordinator blends his style with Fromm. The OC is going from Jim to James but still staying with the JC initials as James Coley takes over from Jim Chaney. With terrific recruiting the last few years, the pieces are all there if the coaches can just put them all together correctly. Look for Georgia to improve over last year's record and be a better team that finishes the season stronger.
SEC West – Projected Losers to Top Team
Arkansas – SEC West, you've had a predictable loser for the last few years and thy name is Arkansas. Ever since Bobby Petrino mis-drove his motorcycle into the mess with someone else's Mrs. on the back, the Hogs have simply been an afterthought when it came to being a contender.
That will be the situation again this year after new head coach Chad Morris' 2-10 awful debut despite picking up yet another Texas A&M leftover quarterback, this one, Nick Starkel and a leftover QB Ben Hicks from SMU.
The good news for the Hog fans is that while they'll still finish on the bottom, they'll be a better, more competitive team and their record will improve in 2019.
Ole Miss – You know, of all the teams in the SEC this season, Ole Miss is going to be the hardest to predict. The reason? Matt Luke, still sort of a new to the job head coach, wasn't job scared enough to resist bringing in new coordinators with more and better head coaching experience than he has himself in the guise of Rich Rodriguez (OC) and Mike MacIntyre (DC).
If this coaching staff lives up to what they're capable of doing, and most think they could, then Ole Miss will improve on their 5-7 record of last season and could get bowl eligible.
Still they're going to have to come up with and quickly groom a quarterback and fill some other needed holes in a team that didn't run without squeaks and groans last season, but overall, look for the Rebs to improve.
Mississippi State – Last season, the Bulldogs from the muddy river country did achieve an eight win season with a new coach and that certainly gave hope for the fans there to have optimism for the future.
Joe Moorhead did good things as offensive coordinator at Penn State and looked good last season getting the Bulldogs to put almost 30 points a game on the boards to go along with a very stingy defense. But the QB that pulled the trigger last year, Nick Fitzgerald, is gone and the replacement hasn't been found yet. To add to that problem, most of that stingy defense is gone too so it's not going to be easy to keep the team on the same level as last year.
While the Dogs may still beat the Rebels head to head and leave with another Egg Bowl trophy, they aren't going to be as good as last year's team unless this new tandem of coordinators just blow folks away with what they are capable of doing and it could just happen. This will certainly be a hard team to predict, but they won't be as good as last season's squad.
Texas A&M – Folks, this is going to be a darn good team, but few teams will play a more murderous schedule and the grind will have to take a toll on this team at some point. With games against Alabama, Clemson, Auburn, Georgia and LSU, that could be five losses right there and it wouldn't mean you aren't still a great team.
Last season the Aggies went 9-4, not bad for a new head coach and a good spot to launch bigger and better things from, but fans still weren't happy losing games to Auburn who had an overall miserable season last year and then losing badly to Mississippi State.
As silly as it is to say, the Aggies could be a better team in 2019 than last year's squad, but still have a worse record and we think that's just what will happen.
Auburn – Auburn is like the ocean, lots of ups and down in that cruising. Last year was an embarrassment for a team that just gave their coach a superstar contract and who delivered like a third string understudy. So that only means that this year will be an up year.
Auburn fans didn't like the whole smell of that 8-5 season last year and this year losses to teams like a bad Tennessee or mediocre Mississippi State team won't happen. Still though trading Tennessee on the schedule for Florida may not work in their advantage, Oregon could be tough and LSU, Georgia and Alabama will all come into the game as favorites in all likelihood.
The offense is still up in the air, but the defense is solid. Overall, look for Auburn to play a little better, but still wind up with about the same record.
LSU – I get tired of writing maybe this is the year the LSU offense finally gets their act together and you're probably tired of hearing it, but this year it might just happen. If it does, by some miracle, it will be because QB Joe Burrow grows into the job after a not so bad first year of learning his way around being an SEC quarterback.
With the majority of a very good defense returning, Burrow isn't going to have to win track meets, just be the kind of QB that doesn't lose the game and manages to put up over 24 points a game.
Last season the Tigers went a very respectable 10-3 with a huge signature win over Georgia. In fact, truth be told, the simply whipped Georgia. But they won't lose to the Aggies this year and therefore could go 11-2 and the folks who decided to keep Ed Orgeron on will start looking pretty smart. Look for the Tigers to be a better team in 2019.
Alabama – Last season went down to the last game where Alabama came literally limping into the championship game, undefeated they were and then whipped up on they became. They looked like a team that was tired, beaten down and not ready to put their best foot forward in that game.
Because of that, you have to pick the Tide to improve just a bit in 2019. Why? Because they're even more upset than the fan base over the way they finished the season and they'll want to prove something this season.
This could be a better secondary on defense and the front seven are always nasty, so that means the offense really only has to prove that they can replace a great one / two punch of running backs among the great running backs that remain and that doesn't seem to be an issue. So overall, look for Alabama to be about the same and maybe just a tad bit better in 2019.
*Get the BEST Alabama football insider information, message board access, and recruiting coverage today! SIGN UP HERE to unlock our subscriber only content!*
Larry has been published in almost every media outlet for college sports and now primarily writes here for Touchdown Alabama. Follow Larry on Twitter for inside thoughts and game time comments at https://twitter.com/LBSportswriter